Club plans hiking trip, fun events
Outdoor Adventure Club to hike Muir Woods on Saturday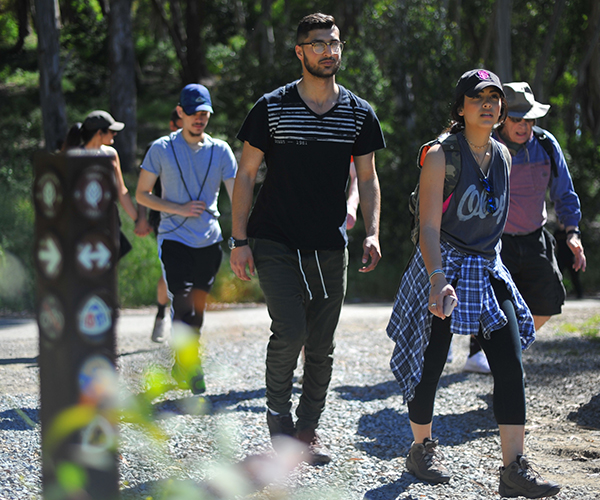 The Outdoor Adventure Club will go on a hiking trip to Muir Woods National Monument in Marin County starting at 7:50 a.m. Saturday.
The club has been active for a year and is trying to recruit new members incorporating more outdoor activities besides hiking, like kayaking, boul- dering (rock climbing) and exploring caves in the Bay Area.
Club member Christopher Miller said, "If you're a person that loves the outdoors, this club is for you."
The club meets the second Wednesday of the month, from 3-4 p.m. on the lawn by Lot 9.
At some meetings, in between dis- cussing upcoming trips, members set up a slack line (like a tightrope, but wider and with less tension) between two trees as a way to bond with nature and each other.
Contra Costa College students Ricky Cusguen and Julissa Martin founded the club to get people outside and to share a love for the outdoors.
The students are club co-presidents and decide each outdoor activity for the month.
Planning is needed to find a time that all members can participate.
Cusguen said the club wants every- one involved, and they are willing to work around school schedules.
Last semester, members had the opportunity to participate in two hikes and connect with people. Martin said the club is a good way to make friends and establish "bonds."
Last semester 15 members joined the club, and adjustments are being made to recruit more people this semester.
The Outdoor Adventure Club par- ticipated in Club Rush last year to sign up new members and will again this year, with the same purpose — to show what their club is about.
Club member Ben Hayunga signed up for the Outdoor Adventure Club during the Club Rush event last semester because he was "curi- ous" about nature and finds going on adventures "interesting."
Hayunga said, "The club is fun, full of a lot of people, gives an excuse to hang out with people and helps you take your mind off of things."
When Club Rush begins, the Outdoor Adventure Club's table will be decorated with things relating to nature, and have some outdoor activ- ities and games for students to enjoy.
Martin said she plans to use social media to inform people about the club by starting a Facebook account, while Cusguen asks for more professors to advertise the Outdoor Adventure Club in their classes.
The club does have professor Dajarah Houston, who calls him- self their spiritual leader, and faculty advisers Nooshi Borhan and Michael Kilivris, who participate in club activ- ities.
Cusguen said he wants students to understand his passion for the out- doors and said, "There's a lot to see in the Bay Area."
The club doesn't just plan outdoor activities, but gets involved in other school activities as well.
Club members could, for example, work or scare people in CCC's haunt- ed house if it is brought back this year.
Martin said students who want to make friends should join the club because they can expect "to go on adventures," together.