Faulty permit machine unable to accept dollars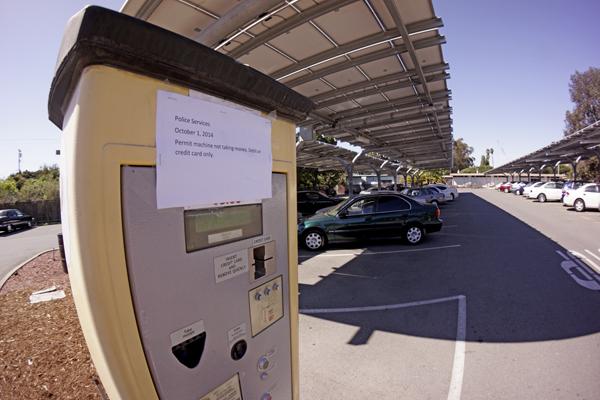 A temporary parking permit machine in need of a new dollar bill acceptor continues inconveniencing those attempting to park in Lot 10 and pay with cash.
The machine still accepts credit and debit cards as means to pay the $3 daily cost of parking, but the inability to pay with dollar bills at the only permit machine in one of the largest student parking lots on campus has troubled some students.
As of Oct. 1, Police Services posted a sign on the Lot 10 permit machine indicating that the bill acceptor is incapable of taking paper currency until further notice. However, one student said she has had to deal with this problem since as far back as the second week of the semester.
"Since the semester started that one won't take cash," health and human services major Safi Ward-Davis said. "A lot of students don't have a debit card and aren't on campus enough to justify paying for a semester permit, and they don't want to get a $40 ticket. (The permit machine) needs to get fixed."
Student vehicles found in Contra Costa College parking lots without a permit or in staff parking spots are subject to a $40 ticket from Police Services. Forty dollars is also the price of a semester student parking permit, which are only available for purchase online through WebAdvisor.
Polices Services Lt. Jose Oliveira said, "We (Police Services) try to refer (those inconvenienced by the machine in Lot 10) to a working machine, but we realize that getting to one can be time-consuming and inconvenient."
The nearest daily parking permit machine is just north of the Biology Building, outside of Lot 14. Otherwise students will have to travel to the other side of campus, around the Gym and Gym Annex buildings, to use a machine capable of accepting cash.
Oliveira said he ultimately recommends that students purchase a semester parking permit. In addition to saving students time and money when dealing with parking at CCC, purchasing a semester permit would "also reduce the wear and tear on the machines" that led to the failing of the bill acceptor in the first place, he said.
"I've noticed an ongoing issue with the machines and it is that the bill/coin collectors wear out quickly," he said.
Senior Parking Officer Mike Sandholm said that the permit machines were purchased and installed by Cale Systems, Inc. about eight years ago and that responsibility falls on the company to service defective machines.
Many of the machines sold by Cale Systems, Inc. today only accept credit and debit cards, not cash. Sandholm said that the college's machines were not designed to collect the high volume of currency they regularly receive.
Oliveira said he is unsure if the faulty bill acceptor has been the reason for any recent citation appeal requests made by students.
Students can have their parking citations that were issued on campus appealed by filling out a citation appeal request form, which can be found at Police Services.
As of press time Tuesday, the daily parking permit machine in Lot 10 still bore the notification from Police Services and was still incapable of accepting paper currency.