Round 2 eatery opens in cafeteria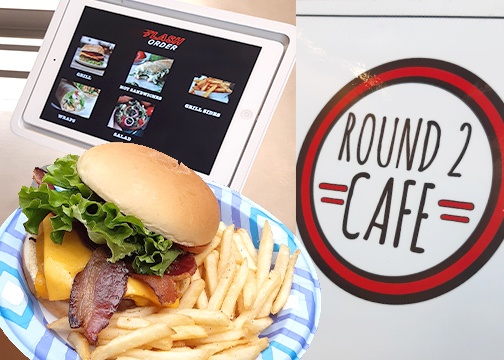 Round 2 Café is the latest addition to the campus' diversified dining options.
Located in the Dining Hall of the Student Administration Building, it replaces the Brix Café that completed its three year-long contract with Contra Costa College in the spring semester.
The eatery now serves as the main go-to option that serves students' appetites for burgers and fries at a slightly lower price than Brix.
The vendor is contracted to be on campus until 2022.
Previously, Round 2 operated at Solano Community College for two years before trading places with Brix. They were officially open for business Aug. 26.
"Usually, you have to bid to get in," Round 2 assistant manager Jhoanna Madriz said. Round 2's parent company, Fresh & Natural food services, is the company that sent their bid to CCC.
"The only other bid that was put in during the proposal process was Subway," Business Services Supervisor Nick Dimitri said.
Before opening for the semester, minor customizations were made to the facility such as detaching glass panels for to-go menu items and removing the large refrigerator for drinks to create a welcoming aesthetic.
A new feature that students will encounter are touchscreen tablets that will take food orders.
"For the pads, we installed them especially for this campus. We had paper orders at Solano," Round 2 Grill Manager Patrick Catapusan said.
The tablets are a distinguishable and effective tool for business. "We anticipated there would be a lot of people and didn't want them to wait too long," he said.
The first two weeks of the semester have been busy, he said.
"Some people give feedback that the food is cheaper and it may affect the traffic that goes through here," Catapusan said.
With selling food at cheap prices comes uncertainty. "Our profit margin is very low. Just so everyone can afford it, we are trying to maintain our prices as low as we can," Madriz said.
To avoid breaking even and having to face inflating the prices, Round 2 is reducing their expenditures such as using traditional plates and plastic utensils and straws instead of the costly compostable ones that were used at Solano.
Round 2 owner Nelson Ng said, "My goal is to maintain the price and be affordable to students." No single food item is above $6 and all their prices must remain set.
Food costs account for 30 percent of their budget, but numbers could not be disclosed. High labor costs reflect the amount of people on staff with only four employees in the kitchen and one cashier to handle business.
Esau Reyes, a first-year student and frequent customer says the service is decent. He bought a beef sandwich but found the food too expensive.
To appeal to the college's student demographic, Round 2 produces certain dishes like the Mediterranean chicken wrap with halal prepared chicken. But not too many dishes can be found on the menu that are vegan friendly and halal.
The tight resources they have at hand is one reason to blame for the limited food options. Ng has ambitious plans to expand restaurant's abilities, but for now, "I have one stove, one grill, one oven and one fryer. That's it. Typically, we should more than that," Ng said.
Their menu consists of breakfast items, food hot off the grill, hot sandwiches, pastries, chips and to-go food.
"As time goes on we would like have daily specials to cater to other customers that want a different taste," Catapusan said.
"Brix had more food choices. The price is better (at Round 2)," nursing major Livingson Azode said. He ordered a chipotle chicken wrap and found it to be a decently priced healthy option but found the service to be "too techy."
Choices for payment include Apple Pay, cash and card. Round 2 is open Monday through Thursday, 7:30 a.m. to 5 p.m. and Fridays until 1 p.m. in SAB-159.
Breakfast is served until 10 a.m. and the grill menu is available at 11 a.m.