Promise kept for a friend
East Bay native gives back through mentoring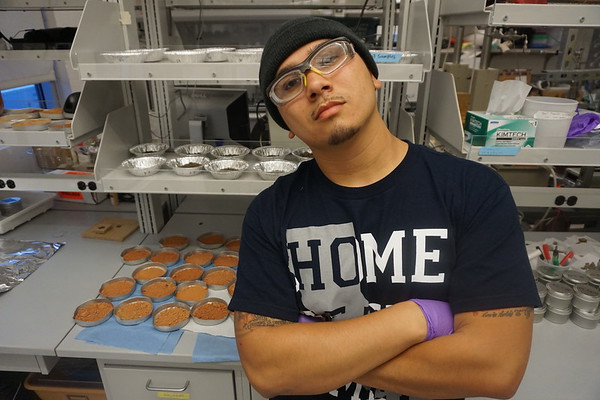 Robin López is an extraordinary human being who was born in Oakland but grew up in the streets of Richmond and San Pablo — three cities that recognize the potential in its young people, "potential that still needs to be tapped into" as López likes to say.
The East Bay native is an example of what people from cities like this can create and bring to society when they feel a sense of equity and have enough resources to feed them back into their communities.
"The amount of equity that we have is never going to be comparable to students from a white community," López said. "It doesn't matter how hard you work, the opportunities are never going to be same."
He was given a National Science Foundation (NSF) grant, which is awarded to students who are believed to have great potential and who are most likely to contribute to positive societal change.
He received the award after proposing a project which would have an impact on climate change.
López is an example of the potential that is required to earn such an award. Even though people would probably say he had the support or the resources to get to where he is, that's not totally true.
López attended De Anza High School and throughout his high school years he was doubted by many people, even an English teacher.
He said that was the worst feeling ever and that it affected him in many ways. So he regularly opted out of going to class. Instead, he ditched school, hid in the woodshop classroom, when it was empty, so he didn't have to see the faces of people who doubted him.
The experience traumatized López as a teenager and continued into college when he realized he suffered from mental health and self-confidence problems.
Throughout his time in Richmond, one of his goals was to attend, and graduate from, UC Berkeley.
However, this goal seemed impossible because after finishing high school López had no idea what to do.
His apprehension was not due to a lack of desire, but because the opportunities that people from Richmond and San Pablo have are not as good as opportunities that someone from a more privileged community would have.
Having made it out of these circumstances, López has made a conscious decision to give back to his community.
Currently, he works with students from the METAS program at Contra Costa College. It is a program designed to help students across age groups to better understand math and sciences and to be better prepared when going off to college.
"Robin (López) is a great advocate for students of the community," METAS coordinator Walter Orellana said.
Even though López and his best friend both made a promise to attend UC Berkeley, this dream was crushed after his friend died by suicide. His death came a year after his friend's mom also died by suicide. Now López has learned to face his new reality and always remembers that promise of attending UC Berkeley.
López also believes one way to uncover great potential in cities like Richmond and San Pablo is to have teachers become active and more aware of the different types of learning environments and ways that students comprehend things.
He said he believes an active learning environment is a great way of unveiling the great potential within students. Educators should also keep in mind the state of a student's mental health, as everyone is different and has different ways of coping and learning.
"Traditional methods of teaching can sometimes overwhelm students and force them to live up to the expectations of others without being able to utilize their full potential," López said.