Football team gets back on track with statement win
Coming out out the gate firing on all cylinders, the Comets never seized control of the game
The Comets defeated winless Yuba College for their last regular season home game in a shellacking on Saturday in San Pablo, with the final score being 55-3.
"This game was about getting our minds straight and confidence back after that loss last weekend," said freshman cornerback Jaden Rhodes after the game.
The Comets did just that, getting out to an early 33-0 lead by halftime and never letting up in the second half, improving their overall record to 8-1 and finishing the regular season undefeated at home (5-0).
However, the lopsided game play didn't stop Yuba College players from talking trash throughout the first three quarters of the game.
When asked about the excessive and unwarranted chirping by opposing players, freshman wide receiver Gabe Sable said, "Every team that's not properly coached or well-acclimated to losing is going to act like that, at the end of the day, we're just going to be grown and do what our coaches have taught us, ignore it."
By the end of the game, though, good sportsmanship was illustrated by both teams as they helped each other up off the field after tackles.
Propelled by their rushing attack, the Comets offense tallied 472 total yards, 279 of which came on the ground, their second-highest total of the year in that category.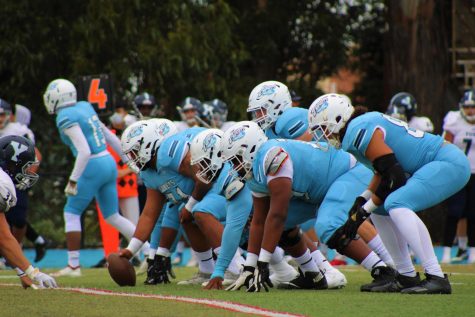 The defensive performance of the Comets was also impressive and arguably their best of the season, accumulating four sacks and two forced fumbles. They allowed only three points to the opposition, their lowest opponent score thus far in the season.
Freshman kicker Alys Vigil weighed in after the game, saying, "There were some sloppy plays, but other than that, I think we brought our 'A' game."
Head coach Otis Yelverton echoed Vigil's sentiment regarding sloppiness, "The players have to understand that we need to play mistake-free football, and so far, we haven't," he said when the game concluded.
Nevertheless, the Comets built a big enough cushion on the scoreboard against Yuba College to comfortably play every player on the team, a nice touch for Sophomore Day.
"We gave everybody a chance to play, and that's what it's all about," said coach Yelverton.
Coming up this Saturday at 1 p.m, the Comets football team travels to Pittsburg to play their last regular season game against rival and divisional foe, Los Medanos College.
The Los Medanos team currently sits at an overall record of 4-5, but the Comets are not overlooking the matchup.
"You can throw out the records because they're (Los Medanos College players) going to play hard, it's a rivalry and I expect a physical game," Yelverton said.
"I'm a freshman, so I don't know a lot about the rivalry, but I'm excited to find out and be a part of it," said Vigil.
However, Sable noted, "I feel like every game is a rivalry game the way we get pumped up beforehand."
There is a lot to be pumped up for this weekend, as many implications regarding postseason match ups and conference standings will be decided.
This Saturday, the colleges of Foothill and Feather River also square off against one another. A Foothill victory coupled with a Comets victory would create a three-way tie for conference champion among the three teams- the best outcome possible for the Comets right now.
Although, even if the Comets do not win the conference, a win this weekend against Los Medanos College would still ensure a playoff game in San Pablo, something that has not happened in quite a long time.
Said Yelverton,"There is a lot to be proud of, especially considering where the program was a few years ago to where we are now."