Basketball team shines in home opener, stays undefeated
The Comets may have been undersized in terms of height, but not in terms of heart and hustle
The Comets' men's basketball team took down Cabrillo College in their first home game of the season Tuesday evening, improving their overall record to 4-0 in what was a hard fought, up-and-down battle between the teams.
"This game showed a lot of character in our young team," said Comets head coach Miguel Johnson.
The Comets have only one sophomore on the squad, John Wade ll, so Johnson's experience will be tested. Yet, so far, Johnson's skills – as well as the young team's – are shining brightly as they sit atop the standings in first place of the Bay Valley Conference.
To start off the season, the Comets traveled to Las Positas College two weeks ago to take part in the Tony Costello Tip-Off Tournament, where they beat the colleges of Siskiyous, Butte, and Sacramento City in three consecutive days.
Leading the way in all of the Comets games thus far are feisty defensive performances, holding three of their first four opponents under 70 points.
Last night specifically, the Comets amassed twelve steals, twice the amount Cabrillo College mustered. Six of the swipes came courtesy of John Wade ll.
The bench also gave the Comets' a boost, netting 35 points compared to only 17 points contributed from the Cabrillo College bench.
"We all played together, the bench gave us great minutes and great energy," said freshman Comet Prime Payton.
"Kareem Howze came in off the bench and gave us a nice spark, especially defensively," said Johnson.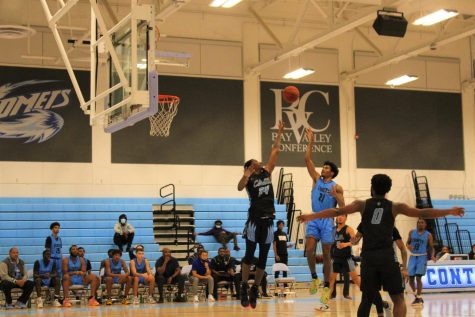 The Comets were able to jump out to an early double-digit lead, prompting a timeout from the Cabrillo College head coach, who could be heard assuring his players, "We are way better than these guys, they don't have any size."
Yet, the smaller stature of the Comets did not stop them from showing resolve throughout the game that even the Cabrillo head coach could appreciate, as he high-fived some Comet players after a nice play.
Taking a seven-point lead into the half, the Comets were in good position but were not satisfied.
"We were a little down on ourselves going into halftime after letting them come back," said Payton.
Early in the second half, Cabrillo College got hot from three-point range as a team, and took a one-point lead. However, the Comets weathered the storm with their own barrage of three-pointers, giving them a twelve-point advantage about midway through the second frame.
In the final ten minutes of the game, the Comets held Cabrillo College scoreless on offense for about five minutes of game play, cementing what would be their fourth win in a row.
However, it wasn't without some drama. Both benches were very vocal and engaged as the game winded down.
"It got a little chippy, those guys were saying things, we were saying things," said Johnson.
With one minute left in the game, a technical foul was called on John Wade ll for swinging his elbows to try and clear space, a relatively new rule that has been instituted by the California Community College Athletic Association for player safety.
Wade's elbow came in contact with the face of a Cabrillo College player, causing him to fall and prompting both teams' benches to clear as they got into each other's faces where the play happened. As yelling and tempers quickly intensified, the referees cleared the court temporarily to let each coach settle down their players separately.
When all was said and done, Johnson and his squad walked away with a 78-65 win and freshman guard Miles Lewis led the way in scoring with eighteen points.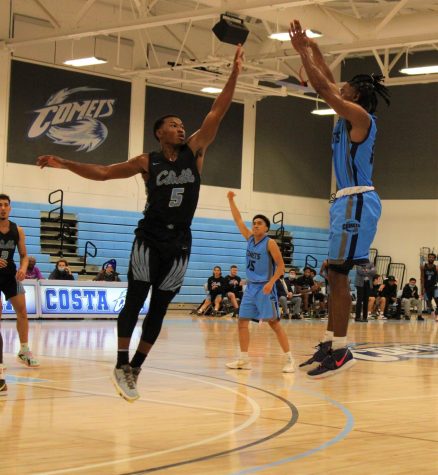 When asked what could be cleaned up by the team moving forward, Johnson said the Comets, "Need to improve offensive execution," and Payton noted the players, "need to talk more with each other out there, communicate better."
Coming up, the Comets' next two games will be held in a tournament at the College of San Mateo this weekend, taking on Merced College on Saturday and Gavilan College on Sunday, both games starting at 12 p.m.
Following the San Mateo Tournament, the Comets will begin a long sixteen-day stretch without a game as they wait to face off against Butte College for the second time this season on Dec. 7 at 7 p.m. in San Pablo.