Contra Costa student and star football player in recovery after shooting
The illegal firearm that started the madness was never fired, but the officer's gun was
Before waking hours on March 27, Contra Costa College student K'aun Green was shot by a San Jose police officer and remains hospitalized after undergoing emergency surgery for his injuries.
"It's hard to even think about," said Contra Costa College Athletic Director, John Wade.
Green has been a defensive lineman and linebacker on the Comets football team as a freshman.
While dining at La Victoria Taqueria in downtown San Jose with a friend and two young women, Green was approached by a group of male customers, one of whom punched him. While Green was wrestling with the man who punched him, another of the men pulled out a gun, as seen on the restaurant's security tapes, released by police.
The entire incident was captured by several different angles of video surveillance footage inside the restaurant that shows Green grab the gun from the man brandishing it, as frightened customers rush toward the restaurant's exit.
There were about six people involved in the fight – one of whom received an orbital fracture, San Jose Police Chief Anthony Mata later said – as the men wrestled over the firearm. Green was still holding the weapon he had taken from the attackers as he walked out of the restaurant. A San Jose Police officer then fired at Green, hitting him with three shots in the abdomen, knee area and arm. Green has been in the hospital for three days so far.
His attorneys and others see Green's move as heroic.
A media statement released by the Pointer and Buena law firm, which is representing Green, said "K'aun was shot without warning or legitimate provocation just as he opened the door."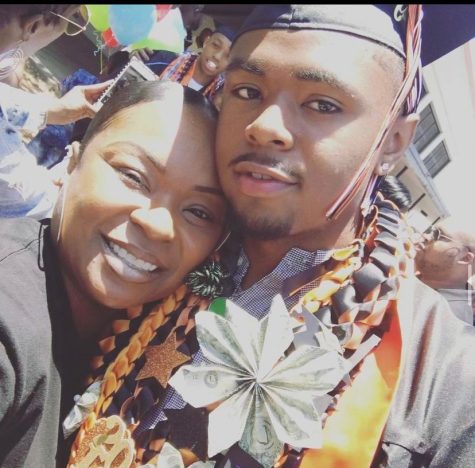 "Trying to disarm somebody with a firearm is definitely noble, how many other people would have stepped in and tried to save everyone?" said Wade.
However, Mata said at a news conference this week that the lone officer who fired his weapon did so after "repeated demands were given to drop the gun."
He claimed that Green's injuries were "non-life threatening."
This is the second shooting involving an officer in 2022 for the San Jose police department.
According to Pointer, police kept Green in custody at the hospital for two days following the incident and would not allow him the comfort of his family after the experience.
Green's family only found out what happened by contacting Pointer to represent them after police refused to give them any information.
Green has no prior arrests or detentions by police, his attorneys said.
"He's a good kid, a good student, and a good football player that had multiple four-year schools recruiting him," said Wade, adding, "I've never heard a bad thing about him from anyone on campus."
A joint criminal investigation by the Santa Clara County district attorney's office and the San Jose Police department's homicide is now underway. The case is also being monitored by the San Jose Police department's internal affairs unit, city attorney's office, and the office of the independent police auditor.
"The determination of whether the shooting was lawful and justified will come from the district attorney at a later date," said Mata at the news conference.
The officer who shot Green has four years of experience and was placed on routine administrative leave- his name has not yet been released to the public, according to Mata.
Body-worn camera footage from the officers will be released in a community briefing video, as is the department's protocol for officer shootings. Cell phone videos from customers who were outside when the shooting took place may also be used in the investigation
The only body-worn camera footage from the officers that has been released so far is a still photo of Green holding the firearm outside La Victoria Taqueria just before he was shot.
In the still photo, Green's back is to the camera and the gun is in his left hand.
The gun, which police seized, was a privately made, untraceable firearm, which has become an alarming negative trend in the San Jose area, according to Mata.
San Jose police arrested Brian Carter, 30, on suspicion of being a felon in possession of a firearm, in connection with the events. Green has not been charged with any crime.
We will continue to cover the story as it develops, so check back on our website for updates.