New laws aim to get California community college students to graduation faster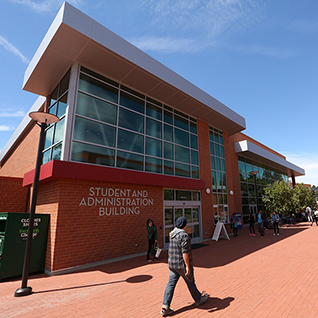 Two pieces of legislation signed recently by Gov. Gavin Newsom aim to increase graduation or transfer rates and cancel student debt for students at California community colleges.
One bill recently signed into law is AB 1958, which allows colleges to use extra funds to offer debt cancellation to encourage students to enroll or re-enroll at community colleges.
This bill was made to encourage more people to go or return to school after the number of enrollments dropped during the pandemic. According to the National Student Clearinghouse, the number of undergraduate students attending college has decreased across the country by 5.1% since the fall of 2019.
"California is increasing resources, adding services, and advancing equity to boost graduation and transfer rates throughout our higher education systems," said Gov. Gavin Newsom in a press release about the bill's passage. "Thanks to the Legislature's leadership, we're building on my Administration's efforts to ensure all of our students are well-equipped to succeed and prepared for California's future."

According to the bill analysis, some of the significant provisions AB 1958 are: 
It allows the chancellor of California Community Colleges to distribute funds from the Community College Student Access, Retention, and Debt Cancellation Program (CCSARDCP) to support efforts to increase community colleges' recruitment and retention rates. These efforts aim to engage with students who previously left or are hesitant to enroll because of the COVID–19 pandemic.

The amendment allows a community college district to distribute funds from the CCSARDCP to the colleges that have experienced the most significant drops in enrollment due to the pandemic.

Community college districts can use the funds to encourage students to enroll in their schools and settle accumulated debts. They can also use the funds to forgive unpaid balances.



Another bill Newsom signed recently AB 1705. The law will require high school transcript data to be used as the primary means of determining the placement of students in transfer-level math and English courses instead of placement tests. It also requires self-reported information to be used if there are issues with using transcripts.
The bill would prohibit community colleges from requiring students who have graduated high school or have a General Education Diploma to take pre-transfer or remedial courses in math and English except under certain circumstances.
Students enrolled in programs that require quantitative reasoning and writing communication must complete the necessary transfer-level math and English in the first year of college.
In other words, community colleges must enroll students in specific math and English courses where the majority have a good chance of meeting their transfer requirements. The goal – according to the law's proponents – is to help students get through school more quickly. It also prohibits requiring students to repeat English and math classes that they took in high school.
By July 1, 2023, community colleges must enroll students in math or English transfer programs that meet their associate or certificate degree requirements. The student's major must also approve these programs to ensure that the benefit of the coursework is reflected in their final degree.
By July 2025, community colleges must evaluate the effects of placing students in transfer-level courses that prepare them for the first major course in a science, technology, engineering, or mathematics major. These courses must be at most two and must be designed to meet the prerequisites for the first major course.
It is uncertain if this new legislation will increase the number of people enrolling or going back to school, but some students indicate it could inspire them to enroll.
In an interview, Contra Costa College student Maria Plaza stated that she was hesitant to enroll in college because she did not want to retake classes she took in high school.

"It is unnecessary and not encouraging for me to take classes that I already took and don't necessarily need, so this new bill is needed and a great idea. I am confident this will motivate more people to go to school," Plaza said.
The bill has drawn opposition from the California Federation of Teachers.
"This bill would limit the ability of students to select the courses that align with their academic goals and limits the information available to students regarding specific course offerings," the federation wrote in a memo to the California Assembly. "It is important to ensure that community college students with a goal of transfer are not required to take courses they do not need while also increasing resources for students to ultimately be successful in reaching those goals. However, AB 1705 creates new barriers and restrictions that will have significant negative consequences."