Local athlete creates game-changing basketball training product
Teams and players in California, Arizona, Indiana and elsewhere across the country are now using Dwayne Crosse's product as they train for game day
In the midst of a busy basketball season during his senior year in high school, Oakley athlete Dwayne Crosse began working on a prototype of a basketball training product. He called it "Hand-In-Yo-Face" – essentially a headband with a hand that hangs in front of the face to simulate game-like situations while working out.

After an entire year of using his own product and seeing greater results than expected, he saw an opportunity to start a business to help other athletes improve their skills.
"Covid hit and it wasn't really a regular school year or basketball season. I just thought to myself I really want to start a business and I just saw an opportunity," Dwayne Crosse said.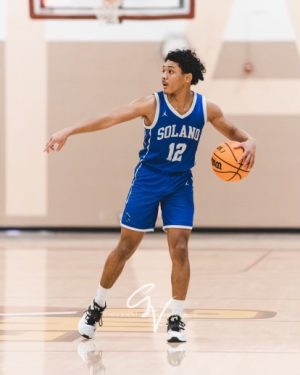 In 2020, students across the nation were struggling while going through the pandemic. Many students' educational plans were put on pause due to nationwide lockdowns. While listening to former professional basketball player Gilbert Arenas' podcast, Dwayne Crosse took inspiration from a childhood story Arenas shared about practicing his skills off the court. Dwayne took this bit of down time during the pandemic as an opportunity to not only try the technique out for himself but to also develop the Hand-In-Yo-Face product. 
 A year after creating and using his own prototype, Dwayne Crosse began outsourcing supplies and working with a professional designer to create the quintessential Hand-In-Yo-Face training product. The product officially launched in July of 2021.

Today, the product is thriving. Hand-In-Yo-Face is now being sold online, and its Instagram page has grown to over 11,000 followers in the last two years. Teams and players in California, Arizona, Indiana and elsewhere across the country are now using the product as they train for game day.
The business journey has not been without challenges. Crosse explained that one of the most difficult aspects of running his business was just "getting people to believe in it."
"Once you introduce somebody to a new concept they've never seen before, they're not instantly going to gravitate to it," he explained. Crosse got more eyes on the business when his Instagram gained traction, and he began to see professional athletes and established sports pages commenting on the Hand-In-Yo-Face. In an interview, Crosse explained that one of his proudest moments was when Arenas had posted and given some positive feedback on the product in support of Dwayne and his plans for the brand. 
Teammates describe Dwayne as someone who is intentional and cares for the game and his teammates. 
"He has a bright future, especially having a leadership role," said Jacob Ebert, Crosse's former teammate. Ebert also praised Crosse's Hand-In-Yo-Face for its ability to help players prepare for game-day scenarios, describing it as "a product that can help you with game-like contests at the next level." 
"With this product, it may be closer in your face as a contested shot but when training, your workouts should be harder than your live game," he said. 
Leave a Comment