Queen Charlotte: A Bridgerton story
The "Mad" Love Story that transforms high society.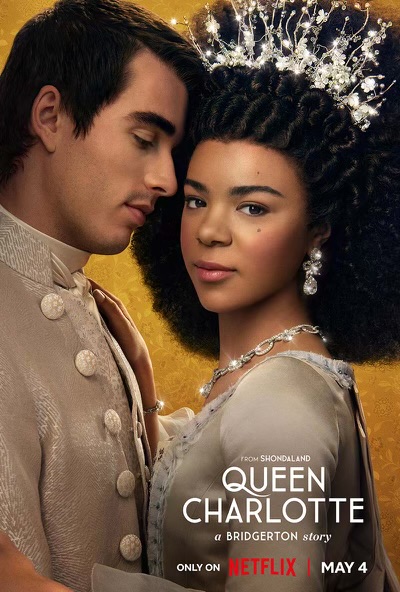 Bridgerton returns with a prequel taking viewers through an emotional and drama filled timeline of Queen Charlotte's life.
Throughout the season we're taken through two timelines switching back and forth from the current Bridgerton period we know from previous seasons while flashing back to meet young 17 year-old Charlotte (Played to perfection by India Amarteifio) and follow her through her journey to royalty. 
The series follows Charlotte as she's wed to King George III (Played by Corey Mylchreest) and all the chaos that ensues…
As one could imagine, strong-willed Charlotte has absolutely no intention of being married off to a (soon to be) deranged stranger nor does she plan on leaving her home in Germany. The two betrothed meet elegantly as Charlotte is attempting to conquer the palace walls minutes before their wedding and proper introduction…well as proper as it could be at that point. 
A certainly handsome and charming King George is able to soothe the nerves and doubts of his fiancé and the two are wedded as planned. As much as we'd love for the story to take off with the King and Queen in absolute wedding bliss, it wouldn't quite be a Shonda Rhimes production without an overabundance of drama, chaos, wigs and sex. That's exactly what we get for the next five episodes.
The leading conflict in Queen Charlotte's story isn't so much about the sexy intimate moments and the perfect love pairing like we'd usually see in the Bridgerton series. This spinoff is shockingly focused around mental health. As time goes on, the plot slowly unravels. 
Immediately after their wedding George disappears into his observatory and as far as we know, doesn't see his wife again for weeks.  Eventually, we get to see why King George has been so distant from his queen. As you could imagine, mental health wasn't the main concern of the palace. However, all almost came tumbling down when Rhimes beautifully yet wistfully reveals that George is suffering from a mysterious illness of which he can't share with the country nor his wife for the sake of his throne and marriage. 
All eyes were on Charlotte after her crowning, considering she is not only royalty but Black royalty at that. Princess Augusta (George's Mother, played by Michelle Fairly) is swayed to slowly move other black families into higher ranking and create a more welcoming and inclusive environment to fit her Queen's background. This interracial love story eventually transforms the high society.

However, things get a bit sticky when Augusta realizes that one of the Queens leading ladies and confidant admirably known as Lady Danbury may have an inside scoop on what life has been like for the king and queen since their wedding. Being that the main concern of parliament is that there is an heir to the throne on the way, Princess Augusta is determined to find out that the King and Queen's marriage has been consummated. A headstrong Lady Danbury takes advantage of Augusta's urgent need for detail and offers a proposition in exchange for updates on the King and Queen's relations.                                                            
In hopes of curing the King's illness (for the sake of their family name) Princess Augusta goes through a number of doctors and treatments to help George, but when all fails, their last hope is in professional psychiatrist Doctor Monro. Monro goes on to aggressively and violently treat George through water torture, physical abuse, bloodletting and more. King George and Queen Charlotte's relationship hit an all time low as George is missing for days at a time undergoing intense treatment for his "mad mind". 
The Queen later learns of her husband's illness in an unfortunately frightful way and she quickly becomes his remedy. George has good and bad days as he continues to struggle with his mental health, however because of the patience, gentle love, and support of his beloved wife, he's able to pull through most of his days. 
Thanks to India Amarteifio's flawless portrayal of Queen Charlotte, we get to see a much more vulnerable side to her story. This prequel has to be the most thrilling Bridgerton series yet. The conflicts of a post-racism time period (within the world of Bridgerton), mental health and an entangled-yet-perfect love story somehow fit together beautifully to bring us this triumph of a show.
Leave a Comment