The game was a clearing sweep as the Comets men's football team took the win in an hour and a half run time, scoring 6 touchdowns and ending the game with a total of 370 yards in total offense.
One hundred and ninety-nine of those yards were accredited to quarterback Zac Switzer. Switzer was well protected by the Comet offensive line, allowing him to complete 10 of 26 passes, 3 of which were touchdown passes. Switzer seemed to pair up with wide receiver Demari Davis, #9, who completed 8 catches for 181 yards and 3 touchdown receptions.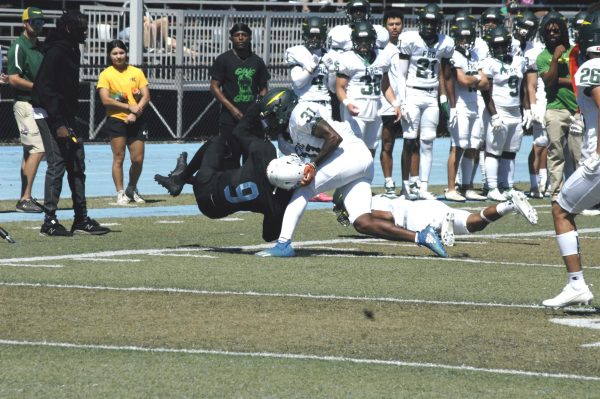 The duo shined on the field, and even completed a 38 yard touchdown pass that would have given them 4 touchdown hookups on the day; however, this was called back by an illegal formation penalty on the 1st drive of the game. 
Story continues below advertisement
The defense also put in their elbow grease, as linebacker Kaden McLeod, had an interception return for a touchdown. McLeod had 2 interceptions on the day, and was joined in the fun by linebacker Damien Houston, #49, who grabbed an interception as well.
The Comets had 121 rushing yards as running back Lonell Howard, led all Comets with 59 yards on 3 carries, and had 1 rushing touchdown. Running back Lokina Phelps performed well alongside Howard, with 4 carries for 26 yards and 1 touchdown. 
Kicker Diego Nunez carried out a great performance and showcased his talents in accounting for 9 total points with a successful 38 yard field goal and 6 successful 'points after touchdown' (PATs).
All in all, the Contra Costa Comets' defense held Feather River to only 50 yards passing, and 251 yards rushing, most of which were in the 2nd half of the game when the game was already in hand.
Want to stay in the loop on news in and around West Contra Costa County and Contra Costa College? Add your email address to receive The Advocate's monthly newsletter.