Every town or city has a local music scene. People all come together collectively and make music for each other and share what they bring to the table. The Bay Area is, of course, one of those places – music has been a big part of the culture here, especially in the Contra Costa County area. 
We had musicians like Kirk Hammet of Metallica and Les Claypool of Primus from Richmond and El Sobrante. The music scene that is really relevant in the Bay Area is the punk scene. With spaces like 924 Gliman and The Stay Gold Deli, many bands have performed and shared their musical talents for many people to see. 
During the Covid-19 lockdown, the scene was at a halt, but a sub-genre of music came into the scene in an explosive way: Hardcore. Hardcore is a genre of punk that is more aggressive, louder, and faster. Bands from San Jose like Gulch and Sunami have been part of this movement. The genre spread all over the Bay Area, influencing many musicians, into forming bands.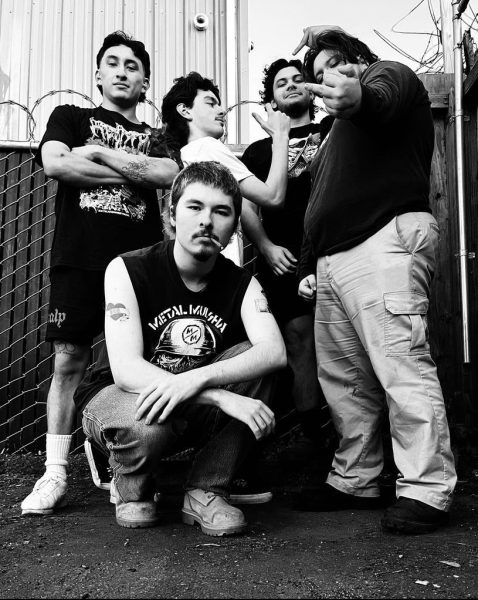 Story continues below advertisement
Manos De Fierro is a locally based hardcore band that formed in early 2021, with members Kane on vocals, Miguel and Eli on guitar, Gerold on bass, and Max on drums. Having a heavy, teeth-grinding aggressive sound that is unlike many other bands to come out of the area. The members all came from other bands to form a supergroup sharing a similar interest in music. 
When the musicians started gaining traction, they began playing local shows and opening for many other local bands. The band recorded their first EP "Eat Lead, Get Money", which blew up, and Manos De Fierro became the talk of the scene. 
Manos De Fierro scattered their shows around the year and filled venues up with fans. Later in the summer, they announced being signed with Barbaric Brutality, a label based in Sacramento with signed bands like "Snuffed on Sight" and "Frog Mallet". With the announcement of their partnering, they also released two new singles, while also announcing a California tour with other four local bands. The tour starts in San Francisco and ends in San Bernardino. 
As they return from their tour, they are planning to release more music, a new EP with their label. Manos De Fierro is showing no signs of stopping, and only more is to come.   
Want to stay in the loop on news in and around West Contra Costa County and Contra Costa College? Add your email address to receive The Advocate's monthly newsletter.