Bargain shopping over holiday values
Time spent with family denoted in favor of deals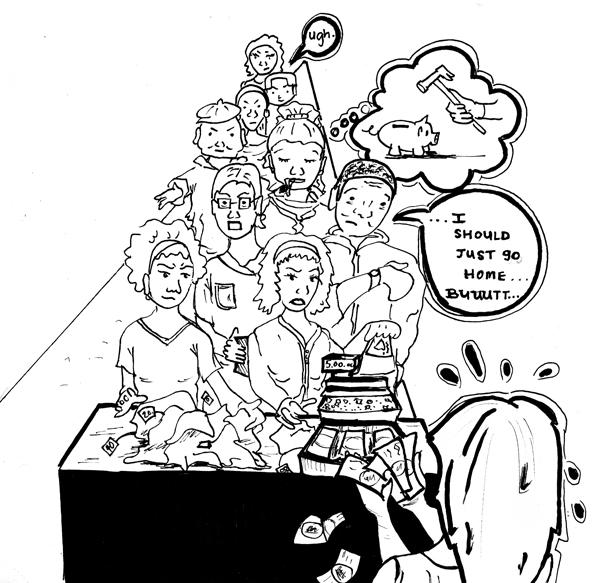 Retail companies now brace their employees for the advent of the holiday season right after Halloween, beginning in November.
Targeted advertising reminds us that the onslaught of early morning sales is steadily approaching once again on Black Friday and Cyber Monday and we, as consumers, must ready ourselves if we want to reap the cheap rewards.
Within recent years, there is a trend among younger consumers to do at least some shopping on the busiest weekend of the year — Thanksgiving weekend. And, as long as consumers keep feeding the economic surplus that is Black Friday and Cyber Monday, there will be no cease to it.
According to the National Retail Federation, the world's largest retail trade association, 44.8 million consumers shopped on Thanksgiving Day and 92.1 million people shopped on Black Friday in 2013.
Sales from stores and websites hit $57.4 billion, despite being down 2.9 percent from 2012 according to a market research article by Giselle Abramovich, senior and strategic editor for CMO.com, a digital marketing research firm owned by computer software company Adobe Systems.
Cyber Monday sales reached $2.29 billion, up 16 percent in a year-over-year basis.
Abramovich goes on to state that total online sales during the 2013 Thanksgiving weekend are up 26 percent in a year-over-year ratio at $7.4 billion. That accounts for more than 10 percent of retailers' total holiday earnings. 248.7 shoppers were in stores and online over Thanksgiving weekend in 2013, up .5 percent over the previous year, listed by the NRF.
The same statistic shows 64 percent of holiday shoppers went out on Thanksgiving Day or visited stores by 10 a.m. on Black Friday.
The average amount of spending done by consumers was calculated at $407, down 4 percent from the previous year. Forty-three percent of millennial consumers, that is 18- to 34-year-old shoppers, shopped on Thanksgiving Day, up from 36 percent in 2012. Millennial shoppers spent 13 percent more than average adult holiday shoppers over Thanksgiving weekend. Also the most conceited age group, 83 percent of millennials shopped for themselves during that same period.
But more interestingly, mobile devices are increasingly getting a bigger piece of the pie in terms of avenues to conduct holiday spending when choosing where to buy.
Results from an analysis of retail paid search advertising over Thanksgiving and Black Friday found that phones and tablets accounted for nearly 40 percent of ad spending. Additionally, phones and tablets accounted for 44 percent of all paid search clicks.
Compared to Thanksgiving 2012, PayPal saw a 91 percent increase in shopping through PayPal mobile around the world. The eBay Enterprise, meanwhile, saw usage and orders grow nearly 130 percent and 127 percent, respectively.
PayPal also revealed shoppers in the U.S. mainly took to their mobile devices to shop throughout the day, according to CMO.com.
A study that examined mobile shopping activity across 20 retailers during Thanksgiving and Black Friday found that total mobile visits increased by 93 percent and overall mobile transactions increased 219 percent. Total revenue from mobile transactions increased by 368 percent.
Reflecting the mobile and online sales, traditional brick-and-mortar businesses such as Macy's, J.C. Penney, Best Buy, Kohl's, Sears and Target have moved operating hours up to 5 or 6 p.m. on Thanksgiving, with Kmart staying open for 42 hours straight, according to a press release issued Nov. 3 by the company.
Doors will open at 6 a.m. and continue to stay open nearly two days, carrying on the idea of the "War on Thanksgiving" where low wage employees have to work during Thanksgiving holiday hours.
The spending spree mentality starts early. Shareen Pathak, brands editor of Digiday.com, said Nielsen's 2014 holiday sales indicate about a quarter of consumers have already begun shopping for the holidays.
Although women are the ones who tend to do the early shopping, 70 percent of men plan to wait, showing that consumer confidence is slowly picking up steam from the 2008 recession.
Consumers should probably wait until the weekend is over, as those who purchased on Cyber Monday in 2013 consisted of 60 percent of overall shoppers, as reported by the NRF in a Prosper Insights and Analytics graphed listed on NRF's foundation website.
Now it falls on consumers to decide where and through what avenues to shop. Decide wisely and, if compelled to engage in the madness that is Black Friday, watch out for the stampedes of deal-hungry shoppers