Compressed calendar decision looms
District, faculty debate reducing semester by two weeks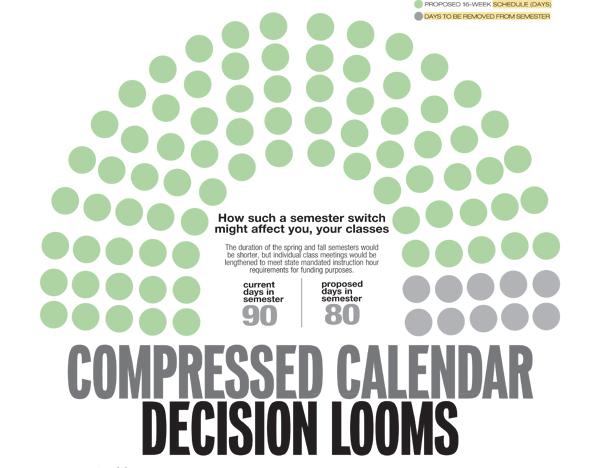 The possibility of reducing semester length by two weeks has been the topic of debate among faculty for weeks.
Although the district is three months away from making a final decision, students are eager to voice their opinions regarding a change that would affect them more than anyone else before anything is set in stone.
"As a student, and from a mother's point of view, having more time off means having more time for your children," Rosario Aviles, liberal arts major, said. "It sounds good, but 18 weeks is barely long enough to take in all of the material as is. I don't think it's a good idea."
Considering that Contra Costa College serves a large demographic of underprepared and first-generation college students, Aviles stressed the importance of such students developing strong academic foundations, which may require extra time and attention from professors — time and attention that would be curtailed by reducing spring and fall semesters from 18 to 16 weeks, she said.
One selling point for making the change is the possibility of adding a winter intersession, potentially allowing the college to serve more students annually and for students to complete required courses faster than before.
District Executive Vice Chancellor of Administrative Services Eugene Huff said, "We want to do what is best for our students and research out there shows that (making the conversion) is beneficial for student success. Some people may say, 'the district is looking for more money,' and that's just not true."
Though a hard study has yet to be published, much research, planning and discussing throughout the state continues to be done on the matter.
"There would be a competitive advantage for the district," Huff said. "None of the contiguous colleges offer a compressed calendar, so if CCC and a nearby school offer the same course, a student could complete the course at CCC in less time."
Compressing the calendar from an 18-week semester to a 16-week semester would affect the entire district.
The proposed change came to the Academic Senate via district consultation on Dec. 15 and was brought for discussion by then district Vice Chancellor of Education and Technology, and presently CCC Interim President, Mojdeh Mehdizadeh.
Academic Senate President Wayne Organ said, "It will take a year to get approval. The deadline for a decision by the (district) Faculty Senate Coordinating Council is May 1. If approved the district would apply before fall 2015 with an anticipated implementation of fall 2016."
Students, who largely have yet to weigh in on the debate, have grown accustomed to the current semester design.
Nursing major Fiona Gao said, "I think it's a bad idea. Time is really tight already and it takes a lot of time to memorize things and really grasp the material."
Because nursing majors are already subject to rigorous course loads, compressing the calendar would shrink the gaps between deadlines and prove more demanding, she said.
Physics professor Jon Celesia said, "The amount of work physics and engineering students need to learn is already challenging to get through in an 18-week semester. My experience with a 16-week system (teaching at SF State) is that you either leave out material or leave out students — or both."
Others are less concerned.
"It's just two weeks. I don't think it's bad or good, but why not?" student Radine Hugo, undecided, said.
Faculty, however, are divided on the issue.
History professor Manu Ampim, drawing on his eight years of experience teaching and interacting with students at CCC, said he believes that reducing the semester to 16 weeks would be beneficial to a vast number of students and faculty.
"Switching to a compressed calendar would allow the underprepared students to finish their semesters and raise the retention rate," Ampim said. "It has been consistent from my experience that during fall students struggling with my class wait until after Thanksgiving break to drop the class, when there are only a few weeks left in the semester.
"Many of these students could have passed if they stuck it out, but the demands of life ended their semesters early."
For faculty, Ampim highlights three advantages to shortening the length of semesters.
"Faculty will get more rest, have more time between semesters to revamp lesson plans, and will have more time for their own professional development in their field," he said.
While Ampim and others see converting an 18-week calendar to 16 weeks as mutually beneficial to students and faculty, others contend that the real benefits will only be felt by faculty and administration.
"From the faculty point of view, it would be great to have more time off; extra time to vacation," English as a second language professor Gabriela Segade said. "But it's not about that. It's about my work with students."
As an ESL professor, Segade said she must be very involved when she teaches, meaning she takes time to monitor student's progress and provide one-on-one support for students who are struggling. Because many of CCC's students are first-generation college students or underprepared students, Segade believes shortening the semester length would make it increasingly difficult to give those students the necessary attention and feedback they need to be successful in academia.
Segade said she would not be surprised if success rates remain the same after semesters are shortened, if it happens.
Huff said, "We need to make sure all voices are heard. It will be an informed decision either way we go."