Outlook presents discussion during 'All College Day'
Upcoming and past academic year examined in detail, new hires welcomed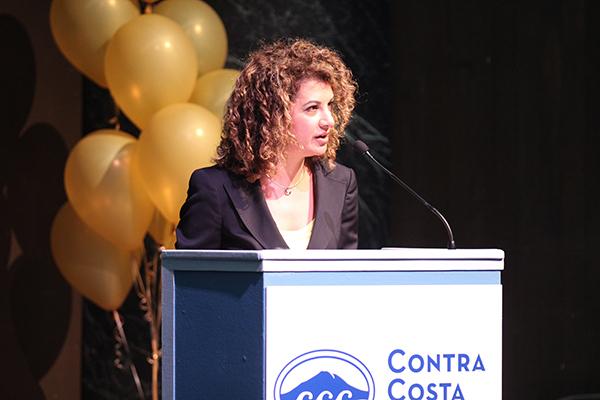 All College Day served as an update for faculty and classified staff on what will be in store in the coming months and what the college has underwent this past academic year.
The faculty mandated event was held on Aug. 14 in the Knox Center and introduced newly hired staff members and recognized service honors.
Classified staff recognitions, service recognitions of five, ten and fifteen years were honored, as well as the Golden Apple Award and the Frank Hernandez Service Award.
Interim President Mojdeh Mehdizadeh said, "We are prized, we are fortunate and we have a wealth of opportunities."
Mehdizadeh said Contra Costa College is prized because the college has been selected to serve as a pilot institution for several statewide initiatives.
"The state is looking to us to help guide the future in some of these important directions that are set before us," Mehdizadeh said.
She said one of the initiatives is a statewide assessment and multiple measures initiative.
The state assessment initiative is in place currently and CCC has an opportunity to be an early adopter of it, Mehdizadeh said.
There will be online and paper versions of the CCC Assess System tests administered for the assessment process.
All 113 of California's community colleges are required to adopt this assessment system in order to receive Student Success and Support Program (SSSP) funding.
Mehdizadeh said CCC is expected to launch the new assessment system in spring 2016.
An educational plan outline module set forth by Starfish Retention Solutions will also be used by the counseling department, Mehdizadeh said.
"We have our wonderful minority retention specialists as well as counseling assistants and counselors that are going to be helping us lead the charge," Mehdizadeh said.
Mehdizadeh also revealed the details of the 2015-2020 Strategic Plan pointed out several key directions or goals for the college, its students and surrounding community.
District Chancellor Dr. Helen Benjamin said the college is in a solid place compared to 10 years ago, when finances and faculty leadership were at all-time lows.
"The expectations of what we can do (as college) are very high so we received a lot of recognition and there has been lots of change," Dr. Benjamin said.
She asked everyone what does the next level look like for the college.
Think about one aspect of the college or the district and what the next level would be from where it stands now to the following year, Benjamin said
"There should be a direct link between all the actions we make and student success," she said.
Benjamin said another change that is taking place is in the college foundations.
"We having been having the least amount of success in foundations at Contra Costa and Los Medanos and Diablo Valley has been having the most success," she said.
She said college foundations are critical for student success and how much resource it can add to a college and that the Governing Board and college administrations have decided to restructure management.
The college foundations provide scholarships and other funding sources for students.
"We are trying to run it more effectively and make sure there is proper control of how the (accounting) is done," Benjamin said.
Former president McKinley Williams said, during the new staff introductions, that this college has been a special entity in the community for over 60 years.
"This college has changed the lives of hundreds of thousands of students in the West County area, and it is all because of (faculty and staff)," he said.