Cougars trounce Comets 5-0
Team drops to 0-3, visits Skyline today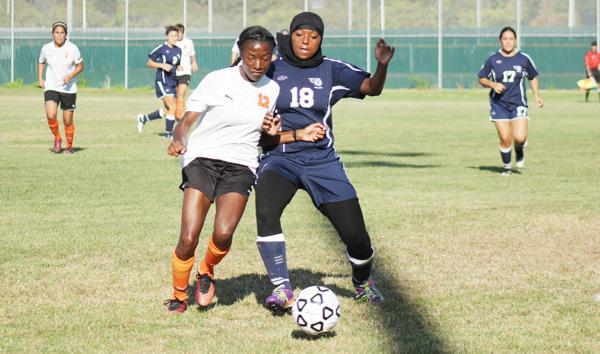 Suffering a 5-0 loss against Lassen College (1-3-1), the women's soccer team left the field in defeat for the third time in as many preseason tries, 
Friday
 at the Soccer Field.
The Comets (0-3) were noticeably more engaged to begin the match than they were in previous games. The back and forth defensive effort, and sheer physical nature to start the match seemed to be exactly what Contra Costa College needed to become immersed in this contest.
Lassen's first goal came on a deflected save that presented itself perfectly at the feet of Lassen midfielder Maria Sanchez before she kicked it in.
CCC was still in high spirits after the deflected second chance goal, as Comet goalkeeper Christy Garcia (seven saves) seemed to be crisper and more alert than in the team's previous two contests. Even after the second mildly contested goal from the right side, team leaders could be heard encouraging their goalie and teammates not to get discouraged.
"The team communicated better and were more focused," Comet defender Gibsy Vlichis said. "We just need more long passes and to push up on defenders more."
With only two shots on goal in the first half, CCC made little headway in finding a cure for its offensive woes. There was however a lot of pushback on defense. Comet newcomer Taheerah Brewer used her superior frame and footwork to out position, out body or plain out work Lassen players for possession of the ball.
"All of them are really good teammates, it was important to earn their trust so early on," Brewer said. "The team we played today weren't better players than us, it was just their first touch. It hurt us a lot and when we did have the ball we tended to hold it more than attack."
Two more goals were scored before the half. The first, a brilliant crossover move in the open field that even brought audible gasps to some of the Comet players. The second, being a prayer of a front kick, from 15-feet inside of the midfield line that lofted over the field of play, somehow finding the back of the net after being just out of reach of Garcia's outstretched fingers.
The team said communication is one of the keys to its potential success.
"We communicated better and everyone's head was in the game today," CCC forward Mayra Garcia said. "When we get the ball we have to be constantly moving forward."
The Comets will play the role of the villain in their next contest traveling to San Bruno to take on Skyline College Tuesday Sept. 9 at 3pm.