Freeway shooting devastates family
Suspects mistake target, victim dies from gunshot wounds after heroic act
RICHMOND — Former Contra Costa College student Demarcus Doss, 24, was shot three times on eastbound Interstate 80 between the Macdonald and San Pablo avenue exits on Thursday, according to the California Highway Patrol.
He died at John Muir Hospital in Walnut Creek around 3:30 p.m. on Friday.
Doss, who was enrolled at Cal State-East Bay as a criminal justice major, was driving a gray Honda Odyssey and his friend, who has been identified as "Jo" — a 24-year-old female from San Pablo — was his passenger.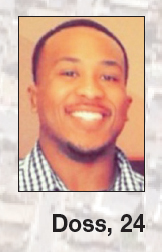 Doss' sister, Shanyla Robinson, said her brother was taken off life support on Friday because he showed no signs of brain activity. But "Jo" sustained only a gunshot wound to her hand and was listed in stable condition.
According to Robinson, "Jo" said Doss and she were stuck in traffic on I-80 and the suspects in the lane next to them opened fire.
Doss told "Jo" to duck as he shielded her with his body. He was shot three times, with one bullet striking him in the front of his head.
Three suspects in the shooting were apprehended by Richmond police in the Iron Triangle area of the city roughly 30 minutes after the shooting.
A CHP press release stated that an off-duty officer provided information about the suspects' vehicle.
The three suspects are 24-year-old Elliot Johnhenry Johnson, of Richmond, and two 17-year-olds whose identities cannot be released because they are minors.
Murder charges have been recommended to the District Attorney's Office by authorities, according to the CHP press release.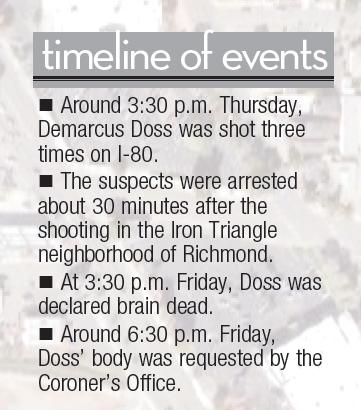 CHP officer John Francen said, "The two juveniles are being held at the John A. Davis Juvenile Hall in Martinez."
The CHP press release also said Johnson was a parolee and has a history of gun charges and violent crime.
He is being held at the Contra Costa County Detention Center in Richmond, according to the CHP.
"The investigation is still on going," Francen said. "The police reports will be available once the District Attorney's Office files the charges."
There have been six reported shootings on I-80 and I-580 in the last two years, but Doss is the first victim of gun violence on the Richmond section of the freeways.
Act of heroism
Robinson said Doss is a hero.
"My brother didn't think twice about protecting his friend. That's just the kind of person he was," Robinson said.
After Doss was taken via medevac helicopter to John Muir, the doctors told the family that they could not operate because the bullet entered through the front of the skull.
Robinson said doctors pronounced him brain dead Friday morning, and told the family they had six hours left with him to say their goodbyes before they shut off the life-support machine.
"Three hours into that time the (Contra Costa County) Coroner's Office came and requested his body immediately," Robinson said. "We asked them for 30 more minutes, but they only gave us 15."
CHP Lt. Jason Reardon said, "Once a doctor tells us a person is dead, the body is legally considered a piece of evidence and at that time the only person that can be with the body is the coroner.
"Look, 15 minutes was better than no minutes," Reardon said. "I know it was tough for the family because they expressed that to us, but that's just how things go in these kinds of investigations."
Doss' brother Kellis Love said the Coroner's Office taking the body before the six hours were up was the only issue they had with the authorities investigating the death of his younger brother.
"His own dad didn't even get a chance to say goodbye to Demarcus while he was still alive," Love said. "Demarcus and I were really close because we shared a room together until I was 21 years old.
"I knew he was going to mature at a young age because he would always ask me questions on how to improve our family or ask what a real man would do in certain situations."
Love said Doss was planning to graduate from Cal State-East Bay and that he loved going to the gym to work out.
Doss' friend since 2010, Malcolm Lastra, said, "I got to know him well during my senior year when I was managing the (Pinole Valley High School) varsity basketball team and Demarcus was playing on the team.
"He was a quiet, respectful, religious, and just a great guy overall," Lastra said. "(Doss) was not the kind of person to be looking for problems. It was for sure mistaken identity."
Love said Doss volunteered often at the Greater Love Ministry in El Sobrante. He said Doss would feed the homeless on Saturday mornings at the ministry at least once a month.
Robinson said, "The police are always going to call it a "gang- related shooting" because it's Richmond. They don't want to say that it was an innocent person who was killed.
"But the (Richmond) police were really effective," she said. "They caught the suspects about 30 minutes after the shooting. People were pulling over to help my brother and someone wrote down the license plate number of the suspects' car."
Robinson said the family and community are organizing a basketball game in memory of Doss and already have a GoFundMe account to raise enough money to fund a memorial service for Doss.
Doss is survived by his parents Eddie and Macletus Doss, his brothers Marquelle Doss and Kellis Love and his sisters Shanyla Robinson, Shanay Doss and Leta Doss.
"Remembering him by the way he died is sad," Love said. "But I know he's looking down on us smiling. He wouldn't want us to be sad. That's why we have to remember him by the life he lived."