Team searches for identity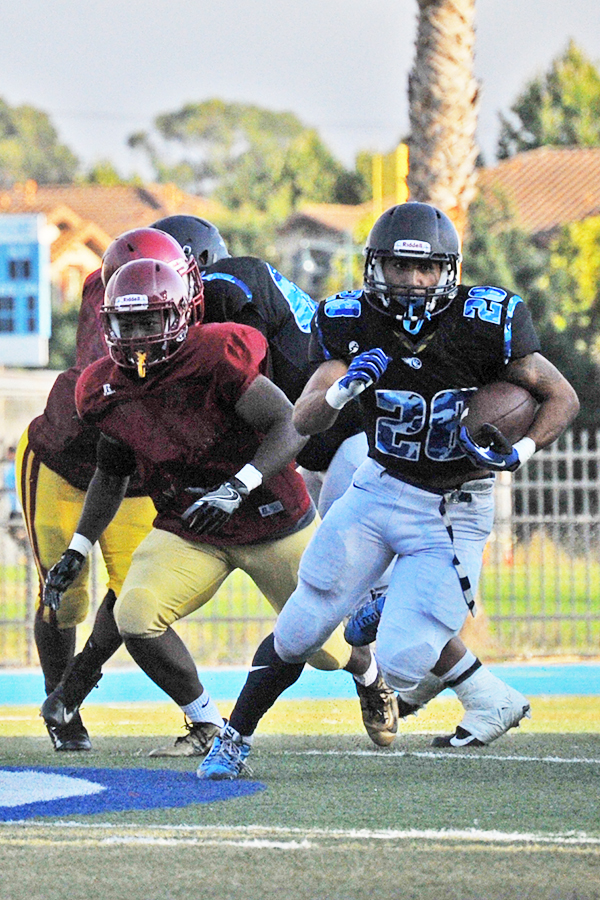 By Drew Thomas, Advocate Staff
August 29, 2017
The  Comet football team saw its first live action of the season with a new coach, a freshman-heavy roster and a hunger to avenge is disappointing first season in the National Bay 6 Conference.
Entering the Aug. 23 scrimmage against Los Medanos College, many players knew they would get the opportunity to earn playing time in front of first-year coach Pat Henderson.
"I'm very pleased with the team's effort and I'm impressed with how the team is buying into the program," Henderson said. "They were showing teamwork and I feel anytime you have things you can learn from it's a good situation."
Henderson said all his players are underdogs which gives them more fuel and allows them to play with a collective chip on their shoulder.
The Mustangs offense gained yards against Contra Costa College, but communication between Comet coaches and players showed on the field, especially when the Comets needed defensive stops.
In the scrimmage, play was largely scripted and, because of the format, neither team was able to develop any rhythm or continuity. So it was important for each player to maximize their effort on every play.
First-year player Aaron Taylor said the scrimmage was a learning experience that brought the team closer together.    
Freshman quarterbacks Rudy Norwood and Davin Lemon Rodriguez are still competing for the starting job.
Both players started off kind of jittery, but after running more plays, each player began getting into his respective groove.
Last year the Comets didn't have a kicker until late in the season, which may have changed the outcome of some games. This season, Comet kicker Alex Galvan has been proficient. His presence alone could make a difference in this program's culture moving forward.
This game was a great way to display the team's talents, but unfortunately, an ankle injury to Comet defensive player Tyell Bell effectively ended his season before it actually began.
Both teams showed respect for Bell by taking a knee when he was stabilized and taken off of the field.
The injury galvanized the team and fortified the budding camaraderie binding the players together.
First-year Comet Steven Harvey Jr. did not reveal his personal goals, but more of the collective goals of the team.
"The team's goal is to make the playoffs, win the Bay 6 Conference and to win together," Harvey said.
Coach Henderson and the coaching staff preach the ideals of elevating your fellow teammates and to develop a to dominate mentality that players apply on the field and in life.
This season hasn't just brought the team new players, but also new coaches to help make adjustments for the young team.
Coach Henderson brought in NaDerris Ward, a former University of Georgia and University of Oregon football standout, who is bringing the team a new culture as he easily relates to the players.
The coaches are re-emphasizing the importance of the team actually believing in each other.