InSite Portal app halted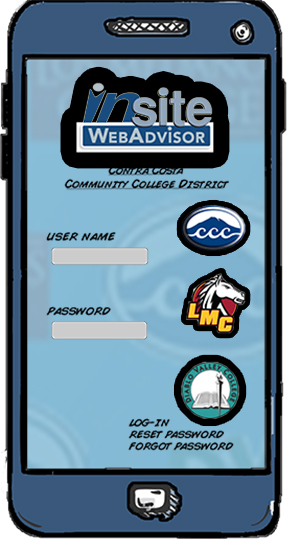 Technology challenges and contractual issues have delayed the release of Contra Costa Community College District's newly designed InSite Portal mobile app.
District Director of Communications and Community Relations Tim Leong said, "We want the app to drop sooner than later, but we also want to make sure we give our students the best product we can."
District Director of Information Technology Satish Warrier said the setback derives from disagreements regarding the company tasked with designing the district's mobile application.
Leong said the delay has caused a halt in the production of the app, however its release is expected in the spring semester of 2018.
District Senior Web Application Administrator Jay Shaffer said the vendor contract will be going out for bid soon in order to find a more suitable developer to create the app that the district officials envision.
While students continue to grow more reliant on their cellphones, the district wants to ensure they are technologically prepared to assist students in connecting with their college, Leong said.
The spring 2018 release will be a beta version of the app where developers will ask users for feedback to aid in fine-tuning it for its later official release.
A beta version of a product is released prior to completion so users can familiarize themselves with a commodity and offer feedback to manufacturers to streamline its final iteration.
The app has been billed as a reimagining of the district's current mobile app Ellucian GO which allows students to do a wide  array of college related tasks.
Students can register for classes and check their grades as well as InSite email and schedules.
Contra Costa College's Director of Marketing and Media Design Brandy Howard said the planned app will keep the same functionally as its predecessor, however, its improved modern design and refined layout will provide better usability.
"The app will be more efficient for students and easier to explore," she said. "The district is making sure students get all they need from their mobile app."
The Ellucian Go app currently allows students to opt-in to a text messaging program where students receive notifications concerning enrollment dates and counselor appointment reminders.
Howard said the messaging program has been a success with over 3,000 students signing up since its launch.
Similar to Ellucian GO, the purposed app will be available on both Android and iPhone devices.
Business major Aaron French said he thinks it's essential for the college to have a mobile app while living in an age of evolving technology.
"More students have cellphones than computers these days. The app makes things more convenient for us who don't have our own computers," he said.
"Once the app becomes available I will definitely use it."