Survivor finds recovery, forgives
Triumph over human trafficking inspires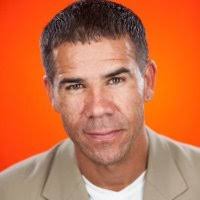 Trafficking survivor Jabali Smith told a triumphant story of recovery that resonated with many students and faculty at a talk held by the Health and Human Services Club Sept. 20.
Smith is releasing a book entitled "Slave: A Human Trafficking Survivor Finds Life."
"When I was 6 years old I was abandoned by my mother to a messianic doomsday sex cult and I was forced to survive on the streets of a foreign country isolated by language and culture for over five years, enduring psychological, physical, emotional, ritualistic sexual abuse," Smith said.
When Smith finally returned to his home in Berkeley he was unable to read or write and he was carrying an intense emotional trauma.
"I was crippled by hurt, pain and shame, locked in a prison of sickness, deeply distraught, embarrassed about my illiteracy and the psychological torture that I had been through," he said.
"I eventually taught myself to read and write. I learned to count by dealing drugs. I learned to navigate the streets from pimps, hustlers, mothers and friends and I came to rely on something other than academic intelligence," Smith said.
Recovery and celebration of life was the centerpiece of Smith's talk, even though he begins his story from such a dark place. Smith tells of a spiritual experience that he had at the height of his abuse that guided his process of recovery.
"I came out of my body and floated above my abuser. I looked down from a painless peace and realized that I was a part of something powerful."
Forgiveness for oneself and others is an essential key to recovery, Smith said.
"Self-love through the birth of my son was how I found forgiveness."
Smith charted some of his successes that are part of his ongoing recovery process: he earned martial arts degrees, he realized financial goals and now he is working on setting up a non-profit that addresses child abuse and trafficking.
At the end of the talk Smith offered eight principals for "post-traumatic success: Take responsibility for where you are at it life, admit to yourself your own wrong doings, make amends to those you have hurt, forgive yourself and others, commit to self-mastery, set goals, take action, and be grateful. Gratitude is paramount," Smith said.
"Hearing the story of his forgiveness for his mother was especially impactful for me," said Regina Franklin, health and human services major. "My parents were on drugs and I had to take care of my siblings. I am going to forgive my mother. I know its not going to be easy, but after hearing his story I feel powerful. Carrying around resentment is truly a burden that I need to put down."
Smith will be holding a book release and dance party for "Slave: Human Trafficking Survivor Finds Life" on Oct. 14 at the Impact Hub in Oakland from 5 p.m. to midnight and he will have a book signing on Oct. 19 at the East Bay Media Center in Berkeley at 5 p.m.    
Darlene Scruggs, a health and human services major who is secretary of the HHS Club, underscored the value of Smith's keys to post-traumatic success.
"My mother was an addict," she said. "My stepfather was an addict and my father just was not around. I was an addict for 15 years. I had to learn those eight principals that he talked about on my own. I have been clean now for 11 years. Gratitude is so important. When I ask myself what I'm happy for its simply knowing that I can wake up and not worry about using."
Cevonne James a radiology/HHS major, said "What stood out to me was when he said be the hero of your own experience. Often, we look for an outside source to give us that love or confidence or encouragement.
"But advocating for yourself and being your own supporter can be really important at times. He exemplified the strength and the poise and the honesty that it takes to overcome traumatic life situations."