Leader manifests solidarity through religious awareness
It can feel as if the world has been placed on your shoulders when navigating life in a country that labels you, your culture and your religion as the enemy.
When being constantly bombarded by distorted notions that portray your innate way of living as dangerous or evil, one's very existence becomes etched into the lexicon of American politics.
For Contra Costa College Muslim Student Association President Rayah Alammari, these misconstrued perceptions have only instilled a deeper passion for breaking the learned stereotypes of what defines a Muslim.
"It can be tough hearing or seeing negative comments and images telling you who you are on a daily basis," Alammari said with the look of determination in her dark brown eyes.
"I'm trying my best to show people that we aren't who they are making us out to be. If I can change one (person's) misconception — I'm happy."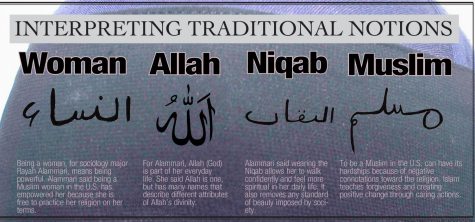 Born in Yemen, one of the poorest countries bordering the Arabian Peninsula, Alammari was raised following the teachings of Islam in a collectivist society. It is characterized by continuous prayer, the practice of fasting and the use of hijabs and niqabs by women.
"It's about everyone, it's not just about you," she said. "Coming from this culture and society has better equipped me with a path to help humanity."
At a young age, her parents placed a strong emphasis on religion and education as well as the importance of individuality.
In 2002, when she was 4 years old, Alammari's parents made the decision to move her, along with her sister and two older brothers, to the United States.
"My father wanted nothing but the best for us," she said. "He has been our strongest support system and wanted my siblings and I to worry only about our education."
But adjusting to post 9/11 America came with its own set of obstacles as the clash of cultural differences took shape in a country at war with the Muslim community — a country Alammari now called home.
"I was put in this weird place where American society sees the way I dress and the religion I practice and thinks I'm weak or oppressed," Alammari said. "It took time and it was a struggle to figure out the middle ground between the two different cultures."

With hopes of being reunited with extended family and old friends dashed, Alammari registered for fall classes at CCC to begin work toward a sociology degree.
"I love my culture and I love my people, don't get me wrong, but I see a lack of help in the mental health field," she said.
Biological science major Sina Alkrizy said, "Rayah's (Alammari) integrity and self-motivating attitude really draws people toward her," she said. "When I first met her I was inspired by how serious she was about her education and her passion for improving society as a whole."
Having known Alammari for three years, Alkrizy said it's Alammari's faith that gives her the strength to express herself.
"When she chose to first wear the face veil my perception of her changed," Alkrizy said. "She's pushing to be herself and at the same time she is removing stereotypes associated with the niqab. That is admirable and shows she has a unique mindset for progress."
Like the hijab, which is a head covering worn in public by Muslim women, the niqab adds a face veil, exposing only the eyes. Alammari began wearing the niqab a few months before attending CCC.
"I started wearing it because I wanted to, because I felt more confident with the way I looked," she said. "I want the conversation to be productive and for people to look in my eyes and understand what's going on in my head."
But with stigmas already attached to the Muslim lifestyle, the stares and comments that come with wearing a niqab only added insult to injury.
"When I'm out in public people ask me where my husband is and why he is making me dress like this. I'm told that I'm oppressed and that this is America.
"I know it's their own ignorance and they will figure it out on their own," Alammari said. "But I'm thankful when people come up and ask me questions. I want to be able to give them the real reason behind what I'm wearing and who I worship."
Long time friend and CCC nursing major Sarabjot Kaur said Alammari is very passionate about helping students as an English and biology tutor.
"Rayah's definition of perfection is giving all that she can, in everything that she is doing," Kaur said. "She has very good time management skills and is able to help students and her family." Although Alammari looks a little different from other students on campus, she is able to walk with an aura of confidence.
"Whenever she is faced with any racism or discrimination she is able to talk to them (the offender) about the issues and come out with a new friend," Kaur said. "She doesn't let the bad energy get her down. She's able to face adversity and stay strong."
For Alammari, CCC has been a safe haven filled with a diverse mix of faculty, staff and students who are able to see past the misconceptions that plague her community.
"I expected to wear the niqab and be stared at or teased, but people walk by as if it's nothing and it feels good," Alammari said. "It's refreshing. I don't know how I would feel about it at any other college."
Since Donald Trump was sworn in as  president on Jan. 20, his enhanced assault on the Muslim community has sent tremors of uncertainty across the CCC student body.
Alammari said the outcome had a ripple effect on her as well as other students on campus. "For me, it hurt my ability to walk confidently and not have fear," she said. "With the multiple travel bans affecting my country and the portrayal of Muslims in the media, it's really hard."
Alammari said this is only a bump in the road, but it's an addition to an already turbulent ride.
"How do you stay strong when family members call you freaking out — what do you say?" she asked. "How do you stay strong for the people around you?"
For many Muslim students on campus, the light at the end of the tunnel has been the Muslim Student Association, a club regrouped by Alammari during last semester.
Providing reassurance and solace, the MSA has flourished with Alammari at the helm of the organization.
"There is such a strong Muslim presence on campus, I figured we could do something great," Alammari said. "As a group, we work together to change the misconceptions of Islam."
Unafraid to show weakness, and too strong to allow it to defeat her, Alammari has prompted awareness throughout many facets of student life.
Cultivating ideas like the Interfaith Meditation Room and holding events such a the fast-a-thon, her devotion to dispelling the negative notions of Islam have been brazen, but needed.
For many who admire Alammari, it is not her brazen feats that leave a lasting impression, but her leadership to begin a movement during a convoluted time.