Susan Lamb to step in as Diablo Valley College president
Previous position, effort to keep Community College of San Francisco accredited reassures District Governing Board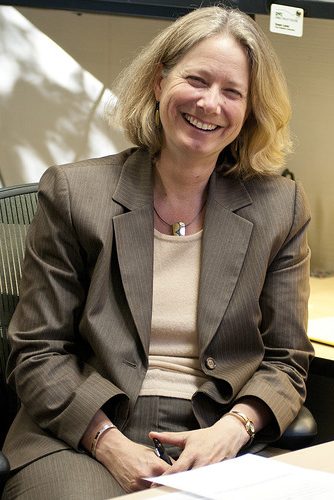 City College of San Francisco's former interim Chancellor Susan Lamb has been named Diablo Valley College's president after months of deliberation by the Contra Costa Community District.
She will be replacing DVC's current interim President Ted Wieden whose one-year term came to an end in July.
In a written statement Contra Costa Community College District Chancellor Fred Wood said, "In the end, I chose Susan Lamb because of her deep understanding of the California community colleges and her understanding of both DVC and the district."
Lamb has been in the race against three other candidates for the position since May. She was named DVC's new president on Monday Nov. 25.
"The biggest challenge and opportunity is always student success, but it's also something we're constantly improving at," Lamb said.
"I remember when I was a professor in the classroom. You're always looking for different ways to help students be more successful, and I think that's both our strength and our challenges going forward."
Dedicating more than 28 years in community college environments throughout the Bay Area, Lamb began her teaching career at Contra Costa College in 1991 as a physical education teacher and men's tennis and women's volleyball coach. After 15 years at CCC, Lamb left to become vice president of academic affairs at DVC in 2006. She served in that capacity for five years.
She then went on to spend two years as CCSF's vice chancellor of academic affairs before becoming its interim chancellor in 2015.
A bulk of Lamb's efforts as interim chancellor at CCSF went into successfully supporting the college in its battle for accreditation after years of low enrollment rates. When she arrived, the college was on termination status. By the spring semester CCSF regain its accreditation for another seven years.
"I'm so happy for her. She's an incredibly kind, smart and competent woman," CCC English chairperson Joy Eichnerlynch said.
Eichnerlynch said she remembers when she was a new professor at CCC and Lamb went out of her way to help her adjust to the college climate.
"I was a hot-headed but passionate teacher with dreams of changing the world," Eicherlynch said. "When I allowed my passion to get the best of me in one incident Lamb intervened and made things right. She made such an impact on me in that one encounter that it still stays with me to this today."
Lamb also made an impact by becoming CCSF's first openly LGBT chancellor, an accolade she carries with great pride.
"It has been wonderful to be embraced for who I am but when I look at the discrimination our LGBT students and DACA students go through on a daily basis, it makes my issues seem small," she said.
Administration of justice department Chairperson Richard Ramos worked with Lamb on CCC's academic senate and described her as a natural leader and great listener who always made sure everyone's voice is heard and valued.
CCC President Mojdeh Mehdizadeh said she has worked with Lamb for years during her time at the district and feels she is the perfect candidate for such a prestigious position.
"She has a long history with both CCC and DVC campuses and a strong expertise in education," Mehdizadeh said. "I'm extremely happy to see her return to our district and looking forward to working with her as new president of one of our sister colleges."
During his time as an academic consultant for CCSF Ramos said he would hear good remarks on campus about Lamb from different students and staff.
"People respect and admire her for her exertion in the fight for CCSF's accreditation," Ramos said. "She'll be great for DVC, she knows the district's history and what to keep her eye on to maintain a functioning and successful college."
The district board's review and approval of Lamb's contract will begin Dec. 14.