Scholarship campaign urges students to apply for money
More than $8,000 in unclaimed scholarships was left on the table last year that could have assisted students struggling to make ends meet. However, a lot of the students don't know that this funding is available.
The Comet Scholar program at Contra Costa College is aiming to change this by informing students, through teachers and staff on campus, about the scholarships and the process to apply for them.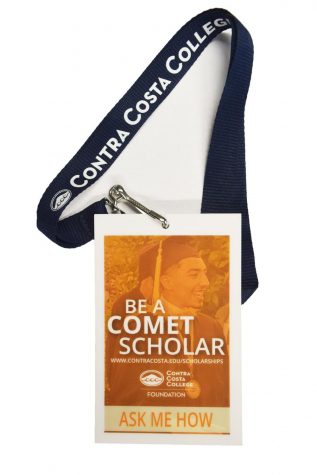 Faculty associated with the program wear T-shirts and lanyards that contain valuable information about applying to scholarships, and most importantly, the March 2 application deadline. Scholarship Coordinator Mia Henderson-Bonilla is spearheading the effort to bring this vital information to students.
"The program is designed to have a more face-to-face approach for students with their teachers informing them," Bonilla said.  "They even have their own hashtag for social media platforms, #cometscholar."
The Comet Campaign Committee consists of Director of Marketing and Media Design Brandy Howard, Financial Aid Supervisor Monica Rodriguez, college Foundation Coordinator Sara Marcellino and Henderson-Bonilla, who all worked together to create the program.
Awareness is the goal of the Comet Scholar program as many students do not know there is a streamlined way for them to apply for all scholarships in one place with the new online application process.
Fred Zatkoff Batton is a veteran who served five years in the Marine Corps and now studies physics at CCC. He said he was unaware of the online scholarship application but that he would definitely apply now that he knows about it.
CCC's online scholarship application allows for students to apply for more than 80 different scholarships at one time, unlike the previous paper format that mandated students to apply individually.
When applying, there is a general application and six essay questions, 300 words or fewer, that will filter students into scholarships that fit the student's academic profile.
Scholarships are broken up into departments, specialized programs and memorials.
Biology professor Katie Krolikowski informed her students about the Comet Scholar program on the first day of class as she said she wanted to get the word out.
She was aware that there are a lot of students who could use the scholarships although many don't apply for them because they think scholarships are only for straight A students.
Many of the scholarships accept a GPA of 2.0 through 3.0, while others seek out honor students. However, there are many opportunities for students as shown by the fair amount of unclaimed scholarships last year.
Quite a few students didn't know about the online application, but some had already begun to apply, showing the program may already be working.
Biology major and Middle College High School graduate Luis Gonzalez, who hopes to transfer to UC Davis or Humboldt State, is one of the students taking advantage of the program.
Gonzalez is now in his second semester studying biology and said he was told about the online application by one of his MCHS teachers.
There are also workshops on campus and an open lab where students can get help crafting their applications.