Federal threats heighten tension
Federal agents target sanctuary states, cities
Immigrant communities and those who support them have experienced a heightened sense of fear and anxiety following Immigration and Customs Enforcement (ICE) acting Director Thomas Homan's announcement of a massive immigration sweep across Northern California in the near future.
The planned action, seen by many as a retaliation to Gov. Jerry Brown's signing of SB 54, leading to the subsequent designation of California as a "sanctuary state," has hopes of arresting up to 1,500 undocumented residents.
The bill does not prevent immigration officers from operating within California's borders, but it does prevent agents from detaining or arresting someone without a warrant.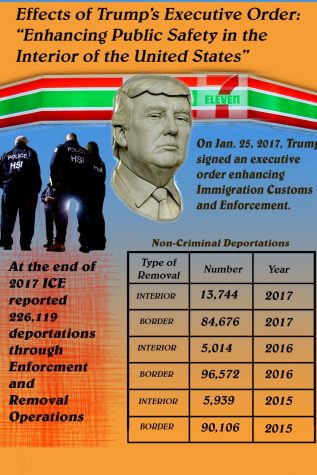 Homan sees the situation a bit differently.
"Those (Differed Action for Childhood Arrivals) DACA recipients, I mean, if they're in the country illegally — they can be arrested. However, we do prioritize our work. So, if a DACA recipient lost his status and went and committed a crime, of course they would rise on our list of priorities," Homan said in a Jan. 26 interview with NPR's Ari Shapiro.
"Criminals and public safety threats come first. But for those people that are, you know, found to be in the country illegally,  they're not off the table. They can be arrested. But we do it in a prioritized manner."
Since the election of President Donald Trump over one year ago, advisers and officials have criticized the creation of sanctuary spaces, deeming those areas a haven for criminals and in direct opposition to administrative immigration goals.
Homan also warned California residents to "hold on tight" in reference to the raids in an interview on the Fox News Network Jan. 2.
Despite aggressive words from the acting director, local law enforcement agencies have not shown heightened activity toward immigrant communities in the Bay Area or Contra Costa County in particular.
Contra Costa County Sheriff spokesperson Jimmy Lee said his department has not been notified of any impending immigration action in this area.
"We haven't been notified by any federal agency," Lee said. "We have not been requested to assist and we are not authorized to perform immigration enforcement."
With mixed messages coming from law enforcement officials, the uneasy feeling is palpable for those with friends or colleagues caught in this whirlwind of uncertainty.
The Contra Costa Community College District makes clear its commitment on behalf of all faculty, staff, administrative staff, and district police services to protect all of its students.
In a district resolution titled support of our students and employees in defense of diversity and inclusion, the CCCCD reaffirmed that it will not release personally identifiable student information, including any data related to immigration status, without a judicial warrant, subpoena, or court order, unless authorized by a student or required by law.
It also states, no district employee, including police, has the authority to enforce federal immigration laws and shall not participate in any immigration enforcement efforts of federal authorities.
District Governing Board member Gary Walker-Roberts reaffirmed the district's commitment to the resolution at the Governing Board meeting Jan. 24.
"Going into this semester I think it's important that we continue to elevate the resolution," Walker-Roberts said. "And to continue the 'if you see something say something' mantra."
Confidential counseling services for the district's undocumented students, including DACA recipients, employees, and their families, will also be made available using district resources.
Keeping the Dream Alive pamphlets are available at CCC in the Counseling Office and throughout campus to keep students informed of their individual rights and of services that are available to help navigate their emergence from the shadows.
Most importantly in this climate is a list of Bay Area legal aid resources. It also urges DACA students to consult an  immigration attorney to determine eligibility for other immigration relief programs.
Currently, a meeting is being planned to weigh the best options available to support students feeling the brunt of the Trump administration's ire.
"There will be a meeting (Friday), a group of people are going to meet for the Dreamer's Alliance to come up with more ideas," La Raza studies professor Agustin Palacios said. "We have a rapid response team and a plan as well, but we want to see what other people are doing."
While away from campus, students still have constitutional rights, both documented and undocumented.
"Know your rights" red cards were distributed on campus by immigration lawyers and faculty following Trump's inauguration last year that remind people of their options when approached by immigration agents.
With an estimated 2.3 million undocumented people living in California, the potential for "collateral arrests" as a result of potential ICE raids is high.
Collateral arrests occur when immigration agents, while looking for actual crime suspects, arrest and detain undocumented people they come across during questioning or surveillance.
Immigration support groups have already filed a lawsuit in federal court claiming the practice to be unconstitutional.
Collateral arrests are precisely the kind of action Gov. Brown's SB 54 looks to eliminate.
Despite the protections afforded Californians in the bill, federal agents are doubling down on their threats to further disrupt the lives of the state's undocumented communities.
"We will not turn a blind eye to somebody that we find during our enforcement operations that's in the country legally," Homan said.