Presidential position drives alum from retirement
Former Santa Monica College president appointed interim president of Contra Costa College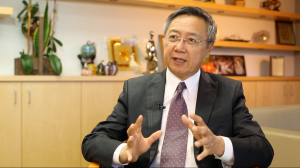 For the time being, former Contra Costa College student and president of Santa Monica College Dr. Chui L. Tsang will fill the void left after the district's recent decision to remove Mojdeh Mehdizadeh as Contra Costa College's president.
Tsang's appointment came after Contra Costa Community College District Chancellor Fred Wood transfered Mehdizadeh back to her previous position as executive vice chancellor of education and technology at the District Office.
Dr. Tsang is leaving retirement to take the newly opened interim position. He announced his retirement in 2015 closing his nine-year tenure at SMC.
As SMC president, Tsang was credited for pioneering the interdisciplinary model which became the foundation of SMC's "LA HI-TECH" program — a community college, high school and industry consortium that provided thousands of job opportunities for students in the inform-ation, communication and technology industry.
The program was recognized by then President Barack Obama in 2015 as part of his TechHire Initiative.
CCC Vice President Ken Sherwood said Dr. Tsang has an excellent reputation as a solid leader in the community college system.
"When I was Academic Senate president at Los Angeles City College, I worked with Academic Senate leaders at Santa Monica College and their assessment was always entirely positive," Sherwood said. "I also heard about his leadership qualities from mutual friends who have worked as college presidents.
"He is held in high regard and universally respected."
Mehdizadeh said Tsang is someone she looks up to as a mentor because of his excellent people skills and impressive ability to calmly navigate through strenuous times in the role of academic leader.
Mehdizadeh worked alongside  Tsang during an accreditation visit to the City College of San Francisco in 2015.
"I learned so much from him during our time working together on accreditation," she said. "He's excellent at organizing people and projects to ensure maximum effectiveness."
Tsang said President Mehdizadeh has implemented many promising initiatives in collaboration with the faculty and staff of the college. He hopes to maintain that momentum along with focusing on ensuring the college continues to operate smoothly until a permanent president is appointed.
Sherwood said, "I think he will bring a great wealth of experience, which will provide us with a valuable perspective on many of the important activities in which the college is currently engaged."
Dr. Tsang also served for nine years as president of San Jose City College.
Sherwood said his experience in other districts in the state may provide some innovative ideas to help the campus address some of the challenges it has been facing in recent years.
With a Ph.D. in linguistics from Stanford University, Dr. Tsang has also gained experience as a professor at De Anza College, Stanford and San Francisco State University.
Tsang was presented with a lifetime achievement award by the Asian Pacific Americans in Higher Education and was named one of America's "100 great immigrants" by the Carnegie Corporation of New York.
"I don't think we could find a better interim leader," Sherwood said.
Dr. Tsang is currently overseas and unavailable for comment.