Icon personifies role model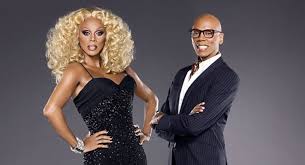 African-American members of the LGBTQ community have graced many facets of the entertainment industry, becoming some of the greatest actors, comedians, musicians and activists of our time.
From Bessie Smith, whose bisexuality was unmasked in her popular blues songs of the 1920s that glamorized lesbian sex, to Marsha B. Johnson, who is known as the surrogate mother of drag queens and trans women everywhere.
Johnson was one of the first to fight back during the Stonewall riots of the late 1960s in New York City.
While prone to more adversity, not only because of the color of their skin, but because of who they love, the odds of a long, illustrious career can seem like a glare in a disco ball.
Throughout decades of cultural evolution, however, no one has stomped the runway harder or influenced and empowered both the LGBTQ and black communities more than drag queen superstar RuPaul Andre Charles.
Known mononymously as RuPaul, the Emmy Award winning actor, singer, model, and TV personality is most notably recognized as a 6 feet 4 inch blonde transvestite woman.
"When you become the image of your own imagination, it's the most powerful thing you could ever do," he said in his 2010 autobiography "Workin' It! RuPaul's Guide to Life, Liberty, and the Pursuit of Style."
"My goal is to always come from a place of love, but sometimes you just have to break it down for a motherfucker."
With the dawning of popular television programing that sprung up on networks such as VH1 and MTV, a link of relatability reached an audience looking for role models.
Becoming one of the most successful gay black entertainers, while doing it in a wig, heels and a dress, RuPaul has transfixed American mainstream culture, paving the way for the once disregarded LGBTQ community.
"The point about pop culture is that so much of it is borrowed. There's very little that's brand new. Instead, creativity today is a kind of shopping process, picking up on and sampling things from the world around you, things you grew up with," he said. "It's as if our culture is addicted to fear and the flat screen is our drug dealer."
Beginning his career in the underground club scene of New York City during the late 80s, RuPaul spent the early years of his career as a struggling musician and filmmaker.
Putting a spin on the classic definition of what a "drag queen" looks like, he began to appear in gender-bending drag.
More jarring than the glamorous and then normalized fashions of a queen, the gender-bending trend includes more male-infused aspects paired with over-the-top pageantry of the merging 90s club scene.
"All things to do with drag are inherently therapeutic because the realization of your own insanity is the beginning of sanity," RuPaul said in his autobiography. "It's true in everything, not just in drag: To be a success, you have to understand the landscape. You have to know thyself and you have to know your history. You can draw from people who have figured out the equation you are faced with. It's not rocket science."
RuPaul's first American break came when he received a cameo in the B-52's music video "Love Shack."
In 1993, RuPaul recorded his dance hit "Supermodel (You Better Work)," which landed him household-name status as the music video flooded the homes of Americans.
It is this rise of fame, where she ditched the gender-bending garb and adorned his 6 inch heels and now iconic blonde hair.
Signed to a modeling contract with MAC cosmetics, in 1995 RuPaul became the first drag queen supermodel to grace the cover of magazines, billboards and film.
In 1996, "The RuPaul Show" premiered on VH1 and included interviews and musical performances with celebrities such as Diana Ross, Duran Duran, Mary J. Blige, Cyndi Lauper and the Backstreet Boys.
Although the show only boasted a two-year run, RuPaul's biggest break would be yet to come.
With a mediocre music career that produced a few chart-topping dance hits, in 2008 she began to produce the reality TV game show "RuPaul's Drag Race" which would earn him an Emmy Award in 2009 for outstanding host in a reality or reality-competition program.
"RuPaul's Drag Race" pulls from the rich underground history of the 90s ball scene with catchphrases, pageantry and performances.
Along with countless nominations, the show has become a worldwide phenomenon with spin offs and parodies which has ignited a movement of expression, acceptance and love.
But beyond the awards and nominations, RuPaul set herself up as a role model for the LGBTQ movement.
With "RuPaul's Drag Race" being renewed for an 11th season, just as season 10 is set to premiere March 22, the show's popularity has only invited more people into the world of drag and in the long run into accepting a community long overdue for love.
RuPaul, like gay black historical figures of the past, has paved a road, a channel for those who were missing a role model that looked or acted like them.
It is a road which has been paved to make it easier for other black LGBTQ members, such as Laverne Cox, to stand at a podium and receive an award.