Workshop offers database tutorials
Students arrive for extra credit, research tips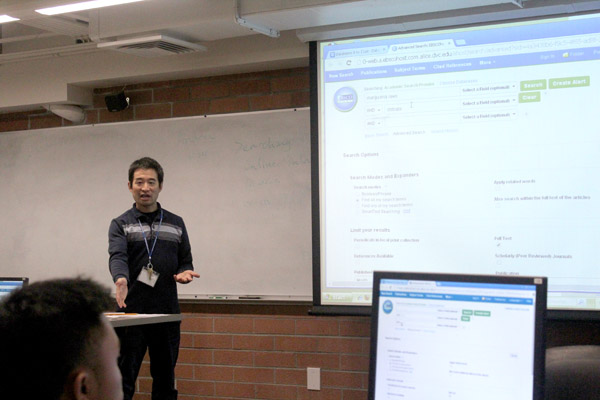 Databases are meant to provide academic resources and list ample information for students writing research papers or any type of informative essays.
The "Searching Online Databases" workshop held in LLRC-107 on Sept. 17 did just that for everyone who showed up, also granting them extra credit for their respective classes.
Library department professor and Chairperson Andrew Kuo led the workshop and covered topics that included the definition of a database, the comparison between a database and the Internet and how to use different databases on campus and at home.
"For starters, it was a requirement for me to attend because of my English 142B class, but two, and more importantly, I'm very new to the college and wanted to absorb this sort of knowledge," student Tatiana DeLacy said.
Early Childhood Education major Irene Cuellar had similar reasons to attend.
"I want to have more knowledge about the databases and I'm taking library studies, so by attending I could earn extra point. It helps me find information for my research topic," Cuellar said.
Students learned that databases are mostly copyrighted resources that a college, in this case Contra Costa College, has access to, due to paid subscriptions for electronic indexes.
Journals, newspapers and documents, many of which are in full text, comprise the electronic indexes.
DeLacy said, "I've never done an abstract (topic) paper and I'm learning what to include. All of the topics (Kuo covered) I found informative. So every bit of it was incredibly helpful.
"It gave me a better understanding of what to do."
Once students register and pay for classes, they are also paying for access to the quality resources and should take advantage of that fact, Kuo said.
"Databases are more credible than the Internet. They do show less results, but are credible," Kuo said.
Cuellar said, "I don't have to wonder whether it is good information or not."
Kuo explained how each database shares common elements with one another, differences between basic and advanced search options and Boolean logic phrases.
"Depending on what you're searching for, restricting the parameters is important for research," Kuo said.
Cuellar praised Kuo's instruction during the workshop.
The next workshop in the "Jumpstart Your Research Skills" series is "Improve Your Web Search Skills," which will also be hosted by Kuo.
The next installment takes place on Oct. 9 in LLRC-107 from 2-3:30 p.m. and will focus on teaching students to use search engines effectively.