DC Freedom Solar brings bright lights to campus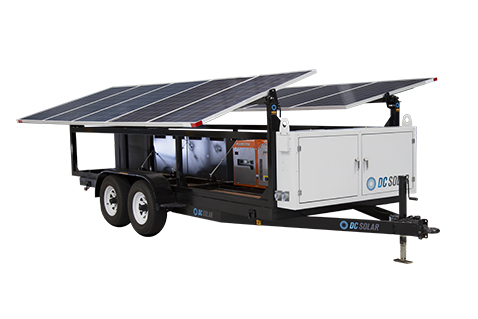 In a partnership with educational institutions, DC Freedom Solar Trailers will bring mobile solar generators to college campuses — including Contra Costa College.
DC is taking outdoor lighting and display signage to the next generation, by offering digital engagement platforms that are solar powered.
Building and Grounds Manager Bruce King said, "Two of my concerns with the trailer is where do we put it and how do we secure it?"
There has been talk of storing it in close proximity to the Applied Arts Building, near the college president's former parking stall.
"There have been a few other locations discussed," he said, "but for now I think everyone is leaning toward the AA Building."
Another of King's concerns  is keeping the equipment safe from vandals. It would be nice to have this piece of equipment, but a lot responsibility will come along with it.
It would increase the lighting in that particular area, but the lighting could also attract vandals and entice bad behavior, he said.
Mariles Magalong, director of business services, said, "DC Solar had offered a display screen and pole as part of the package. At what additional cost I could not tell you."
"I am unaware of the project's cost," she said. "Ray Pyle, the chief facilities planner at the District Office, is in charge of acquiring the lighting trailer that is solar powered, and there maybe some additional cost involved if we include the display accessories."
The display screen could be used for college announcements, like the marquees currently in use, and since the solar trailer will not be attached to anything, it could be used for a variety of events.
The committee discussed the screen in some detail, and then decided more information regarding the display screen was needed.
They decided to think about it for a while before coming to a decision, Magalong said.
Pyle said this is the technology of the future.
"This venture was brought to my attention by a board member who provided me with the information. I needed to investigate and research this opportunistic and lucrative merger," he said. "DC Solar Freedom is dedicated to the environment and seeks to help promote the sustainability of natural resources."
Pyle said DC Solar is able to cover the rental cost of each trailer, at no charge to CCC or its sister campuses.
"There are aspects of this venture that we are still looking into, such as the cost  of accessories and which protocol we must follow," Pyle said.
DC Solar Freedom is a California- based benefit corporation.
Benefit corporations are specifically designed for companies who wish to achieve success while incorporating community and planetary responsibility.
They also allow corporate officers and directors to take into account the people and planet when making business decisions, as opposed to focusing primarily on the bottom line.