City's golden boxer
Bay Area boxer Karim Mayfield brings fighting spirit back to San Francisco
SAN FRANCISCO — From the streets to the ring, Bay Area welterweight boxing champion Karim "Hard Hitta" Mayfield always stands fearless and never backs down from a challenge.
He learned at an early age that when life strikes a punch, you can either fall to the mat dazedly looking up at the lights as the referee counts you out, or you can shake it off, adjust and strike back harder.
Since then, Mayfield has been knocking life on its ass.
Growing up in the streets of the Fillmore District here, Mayfield's vigor and resilience were tested early, yet his commitment for greatness kept him robust and determined to fight out of the burdens of poverty to the prestige of the professional boxing realm.
Mayfield began as a street fighter in his neighborhood, standing against bullies who would tease the younger, timid kids. Unthreatened by size or experience, Mayfield would fight the neighborhood tormentors, proudly proving the point that they weren't the toughest on the block — he was.
"I always thought of it as just doing the right thing. I can't stand people who bully others," he said. "I used to tell them, 'Yo, try that mess with me' then beat them up."
"I didn't play around," Mayfield said with a confident smirk. "But I never thought I'll be where I'm at now."
He was introduced to the ring at 19 after his neighborhood high school, Ida. B Wells Continuation, opened a boxing gym in its basement.
Mayfield said his curiosity led him to visit the gym for the first time. However, he quickly showed potential, defeating a veteran boxer during a sparring session. Growing more confident in his skills with every punch, Mayfield fell in love with the sport and began training professionally soon after.
"I never thought about boxing before, but once I got in that ring I felt like this was it. I found what it is I'm great at," Mayfield said.
Mayfield fought a total of 58 amateur fights earning a record of 54-4 and the 75th San Francisco Golden Gloves at the Bill Graham Civic Auditorium before joining the professional ranks in 2006. During the same time, he taught boxing classes at his former gym, the Straight Forward Club boxing gym.
He made his professional debut in June 23, 2006 with a first round TKO of boxing veteran Chris Mickle, quickly earning himself a name on the professional level.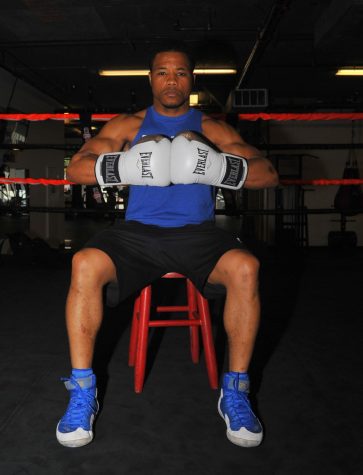 With only 25 professional bouts under his belt, Mayfield's accolades are impressive and include winning and defending the World Boxing Organization NABO Junior Welterweight title and earning the bronze medal at the Western Trials for the 2004 Olympics.
"People tried discouraging me because I competed against people who had over 200 fights when I only had 20, but I still did pretty well," Mayfield said.
In the past 11 years, Mayfield has secured a professional record of 20-4-1, with 11 KOs, and has proven he's a force to be reckoned with on the professional level — with a dangerous right hook.
Still feeling exultant following his October win over the previously undefeated Miguel Dumas, Mayfield has been training at various Bay Area gyms for his next bout against southpaw boxer Gaku Takahashi for the WBU welterweight international championship title.
Also punching down the door into the field of promoting, Mayfield's promotional company "Hard Hitta Promotions" will be hosting the "Battle in the Ballroom" event April 7 at San Francisco's Fairmont Hotel.
Seen by Mayfield's team as the catalyst to re-energizing the city's boxing scene, the event is the first boxing show to be held at the historic Fairmont.
However, the 37-year-old is also fighting a formidable opponent outside the boxing ring. His family is battling the city of Oakland over the murder of his younger brother Shaleem Tindle by a BART police officer on Jan. 3 of this year. Tindle was an inspiring mixed martial artist and Mayfield's personal sparring partner.
According to Mayfield, Tindle, 28, was shot in the back by the officer as he fought over a gun during a heated dispute with another man outside of the West Oakland BART station.
Police body cam footage of the shooting shows BART officer Joseph Mateu shouting, "Show me your hands" before firing two shots at the tangled pair. The two shots landed in Tindle's back killing him. He leaves behind a fiancée and two young children.
Mayfield's family and civil rights lawyer Justin Burris believes the shooting was unjustified and demands justice for Tindle's murder.
"We're working actively to get him fired and prosecuted, but it's a process," Mayfield said. "He has to pay for taking my little brother's life."
The family has attended every city board meeting since Tindle's death to show their opposition against the department's claims, he said.
April's "Battle in the Ballroom" event will be Mayfield's first professional fight since the death of his brother.
Nevertheless, Mayfield maintains his cool in and outside the ring and during distressing times Mayfield said he relies on God for guidance.
"I just pray on it and put it in God's hands," he said. "I know that stressing over things I can't change is not healthy." However, when it comes to his success in the ring, Mayfield credits his unfaltering commitment to consistency.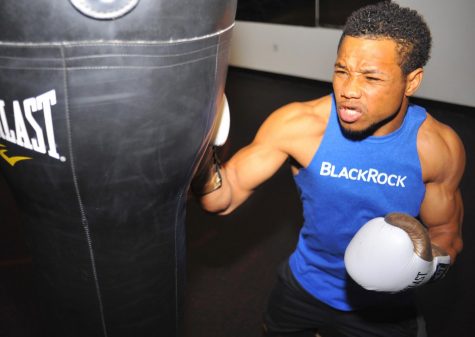 "If I could go back in time and give 'amateur Mayfield' advice, I would tell myself, 'continue to stay on it, stay persistent.' Consistency is the key to everything."
Mayfield continued as the gold grill over his teeth peeked from behind a confident grin, "Truthfully, I would go back and tell myself, 'Don't worry, all these guys aren't as tough as they look.'"
With that message Mayfield aspires to excite the city's youth to focus on their dreams and never slack on the work required to fulfill them. He said that being a champion-level athlete isn't just about being strong physically but also mentally — which includes having a good sense of when to be strong and aggressive or serene and poised.
"You gotta be a champion in every aspect of life," the boxer asserts. "That entails being a good son, a good brother and good father."