Multiyear project to furnish state-of-the-art science facilities
A new 50,000 square feet science building accommodating the astronomy, engineering, physics, chemistry and biology departments is in its final planning stage with a budget of $68.86 million.
The three-story building, developed by SmithGroupJJR, a San Francisco based architecture and planning firm, will be constructed where the Liberal Arts Building and Health Sciences Building currently stand.
Construction is not planned to start for approximately three years, taking place after construction of the new Police Services Building and Athletic Complex.
The complete building is estimated to finish construction in about five years (2023), with the construction period lasting approximately 2.5 years, according to Building and Grounds Manager Bruce King.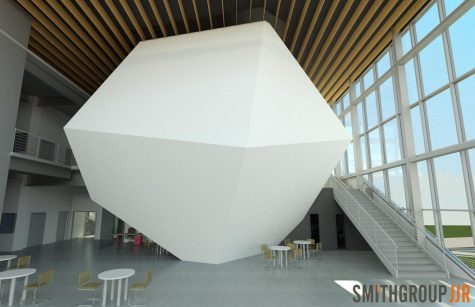 The first floor will house six classrooms and anatomy and physiology labs. Staff offices, a computer lab, the Center for Science Excellence, Dean's Office and biology labs will be on the second floor
A 55-seat planetarium, engineering and chemistry labs and a designated makerspace are planned for the third floor. Physics and astronomy department chairperson Jon Celesia said the makerspace would be equipped with 3D printers and laser cutting for student work.
The building will have a 42-feet high glazed curtain wall in front of the planetarium. It is a feature Celesia said would upgrade the department "substantially."
He said the new technology would enable projections from computers allowing more elaborate visuals and the capability to zoom in on specific details in star systems.
An elevator will take students to the rooftop observation deck with enough capacity for 80 visitors. Celesia said the observation deck would be built to reduce vibration and would have dedicated telescopes connected to computers for more
accurate and clear observation.
The professor said he plans on hosting his Star Parties, where students are shown astronomical events in groups, on the deck.
Principal at SmithGroupJJR Irene Monis said Dean of Sciences Ghada Al-Masri, department chairs, faculty and technicians have worked closely with the firm to make sure each lab and classroom will serve the needs of students and staff.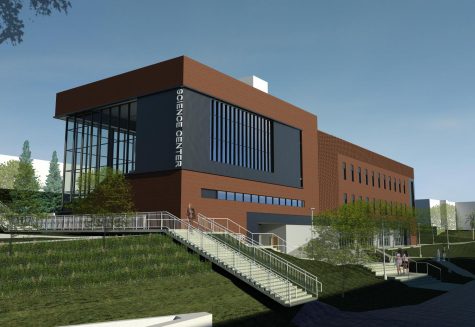 Biology department Chairperson Ellen Coatney said, "We had a meeting about how classes will be laid out to better accommodate the specific activities that will happen in them, rather than 'one size fits all' because nothing will fit all."
Chemistry department Chairperson Leslie Alexander said in the new building they will place enough lockers for every student to use individually instead of working in pairs like they currently do for most classes.
She said the addition of three times as many fume hoods as they currently have will give organic chemistry students an opportunity to perform more complex experiments.
Further improvements can be found throughout the building for each of the different departments. Plans include upgraded cadaver and cell culture rooms for biology and the general improvements include HVAC, lighting, more storage space and more visibly, the new planetarium for astronomy.
"Things like the lack of air conditioning take a toll on our classes," Alexander said. "It's hard to expect students to pay attention when it's 80 degrees in the classroom."
Coatney said she hopes the new building and its central location will entice students to explore the sciences as a major and lead them to be excited for science classes as general education requirements. She wants the department to be more accessible to all students.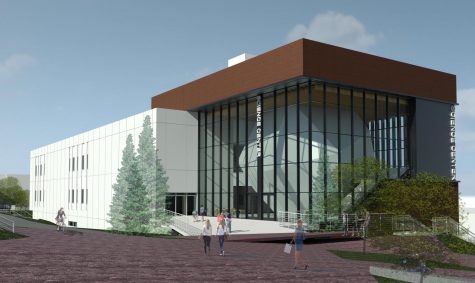 Alexander said, "Instead of telling students 'we're at the top of the hill' we can say, 'we're in the center of campus.'"
Monis said the building's design is to promote the concept of "science on display."
She said the planetarium's visibility through the glazed window will hopefully draw students into the second floor hallway.
There are already talks to label this hallway "STEM Street."
"We expect STEM Street to be a hub where all sciences come together — a space that promotes chance encounters and where students can linger and learn and collaborate with peers and faculty," Monis said.
Coatney said with all staff offices on the same floor it will promote interdepartmental cooperation.
"It will be nice to have us all together," Celesia said. "It's a playground to explore your interests and passions."