Community gathers to support families after a week of heavy violence
Kids who have often come looking for Mark "Markie" Henderson II for a game of basketball or to toss the football in the park are standing around a tree in the center of a cul-de-sac with their parents.
The trunk is covered with pictures and a cluster of candles at the base of the tree is dripping into little pools of wax that are running onto the concrete.
Henderson's death was the second of three fatal shootings that took place all within one week ending a 4 .-month period with no deaths from gun violence in Richmond.
The vigil for Henderson, a former Contra Costa College student, took place three days after he was shot and killed in front of his parents' Richmond home on Hartnett Avenue on the evening of April 9. Henderson was 29 years old and a single father to his 4-year-old special needs daughter, Ariel.
"He wasn't in the streets in a bad way. He did not sell drugs. He did not do anything that would come back on him. We don't know why he was gunned down," Henderson's close friend and partner Tiana McKneely said.
At the vigil, some of the parents are crying and some of the kids too. A few of the younger children just look slightly confused but aware that this solemn event calls for subdued energy levels.
The crime scene investigation tape has been taken down but the bullet holes in the townhouse style apartment building are easy to notice. Henderson's family and friends have been remembering him by telling stories of his life.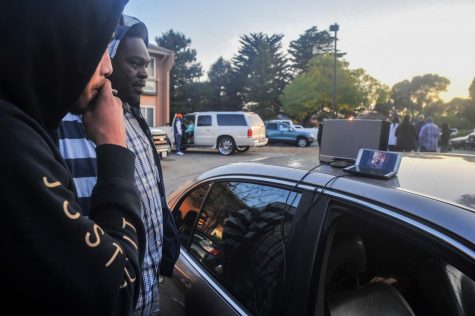 On the night of the vigil, some of his friends were gathered around a cellphone that was perched on top of a car playing videos of Henderson.
Henderson's last act was telling his friends to run as he turned to shield them from the gunfire said neighbor and friend of the Henderson family James Lintz, who witnessed the shooting.
The East Bay Times reported on the 4 .-month reprieve from shooting deaths just days before Jovani Foster, 20, was shot and killed in the same neighborhood on South 55th Avenue on April 7.
At the vigil for Henderson a Richmond community group, known as Operation Ceasefire, showed up as did members of YA-NEEMA healing circle and supportive services.
Both groups are focused on emergency support for families of victims of gun violence.
"It's not about going into someone else's community and telling them what to do. It's about asking people in that community what they need," DeWanda Joseph, of YA-NEEMA healing circle and supportive services, said.
"In 2016 we started a support group for parents of gun violence that meets two times a month. We have not stopped. We help people find work, we do mindful life projects. These (shootings) are interruptions, but we will continue to collaborate
with other groups to support survivors and those at risk," she said.
Among the community members who showed up to support the Henderson family, there was already talk of another vigil for Mark Johnson Jr., who was shot and killed on Thursday morning (April 12).
Johnson, 35, was the third shooting fatality in Richmond in less than a week.
The Richmond community has mobilized in response to years of high homicide rates and neighborhoods have formed interlocking networks to help families heal from the trauma of gun violence.
Charlene Harris, with the Healing Circles of Hope, held a "Survivors Speak" event at Kennedy Park on Saturday. The organization brings together family members of victims to tell their stories.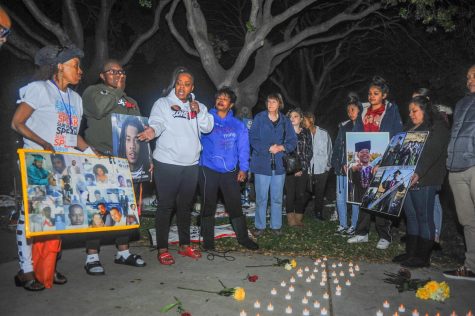 "We live in a traumatized community and nobody has ever been treated (for the trauma), that's why all the shootings are still going on," Harris said.
At the event mothers and fathers spoke about the creative ways they learned to cope with the loss of a child. One mother spoke of how she had fed and clothed children who played together and who later became killer and victim in a senseless neighborhood beef.
Monifa Akousua's brother, Marczari Martin, was shot at the Monterey Pines Apartments across from Kennedy Park and rushed to the hospital on April 8. This shooting took place the day after Jovani Foster was killed. Martin and Foster were close friends. Martin is expected to recover.
Akousua has developed her own personal response to the proliferation of violence in her community. She is holding a produce give-a-way in Kennedy Park on April 29 from 10 a.m. to 2 p.m. She has also held book give-a-ways and neighborhood clean-up events under the moniker "Healed by Kosua."
Monifa said, "When my cousin was killed it inspired me to begin doing work to heal our Richmond family. Our kids don't have healthy avenues, they don't have resources and the trauma causes them to be involved in crime."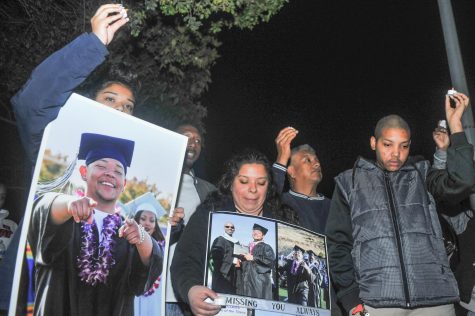 Monifa believes that healing can only take place if physical, spiritual, intellectual and social aspects of health are addressed.
The painful irony of Henderson's death is that he was also focused on finding modes of healing that can keep kids off the street. Henderson was a mixed martial arts fighter; his dream was to open a gym for kids to train in martial arts and dance.
"Markie (Henderson) saw MMA as a healthy outlet, his fighting did not have anything to do with anger. It was more about getting out the frustration and aggression," McKneely said. "He believed in finding another outlet other than guns. He would say 'why not fight professionally rather than trying to take someone else out who is part of the community?'"
Henderson, who played football at CCC, would often look after kids in the neighborhood, according to his father Martin Henderson. He recalled 7-year-olds knocking on the door and asking if an adult Henderson could come out and play.
Henderson was also a hip-hop artist and performed regularly at a neighborhood block party called "Put the Guns Down," organized by his neighbor Elana Bolds.
"If you want to keep kids' attention you have to keep it live," Bolds said.
She said that the way to reach children is by helping kids find their passion.
"Some kids don't think they have talent. We want to give them something to hope for, so we can keep them off the streets.
"I am also a funeral singer and for some of these families, I have sung for every son they had," Bolds said.
Henderson's family is raising funds to cover funeral expenses, and to support his dream of a community gym, at www.gofundme.com/ mark-strongman-henderson.