Students to compete in first ever 'Battle of Talents'
In an effort to earn a spot in Contra Costa College's upcoming "Battle of Talents" competition, students showcased their talents for judges during auditions Thursday and Friday.
Performers sang, danced and entertained onlookers in preparation for next week's talent show.
Hosted by the Associated Student Union and Outdoor Adventure Klub, CCC's first annual "Battle of Talents" will be May 10 in the Campus Center Plaza from 11 a.m. to 2:30 p.m.
Vice President of Clubs Astrid Pumarica said the event's purpose is to promote awareness about child trafficking while giving CCC's talented students a platform to showcase their skills. The event's tagline is "Unite against child trafficking."
Pumarica said she was surprised, yet grateful, to see so many students willing to show off their talents for what she anticipates to be a large audience in the Campus Center Plaza next week.
Students will compete for three scholarship prizes granted by the ASU. Second and third place will win scholarships of $75 and $50, respectively.
First place will earn the $100 cash scholarship grand prize.
According to ASU Senator Christopher Miller the participants will be judged by the cheers their act garners from the crowd. The performer with the loudest applause will win the grand prize.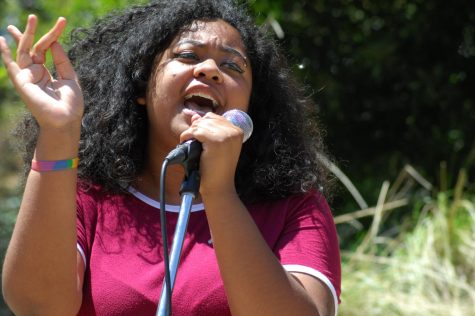 "The more people you get to support you and attend the event the better your odds of winning," Miller said.
Among a number of musical acts, one student auditioned with a choreographed dance performance while another faced the judges with a stand-up comedy routine. 
Miller performed a solo acoustic cover of the Foo Fighters song "Everlong." Miller auditioned on behalf of his band, First Contact, promising to be accompanied by the band for the competition.
"I know there's so many talented people on this campus who rarely get to show off their talents," Pumarica said, "That's why I coordinated this event. I want those students to have the opportunity to show what they can offer to the world."
Biology major and aspiring hip-hop artist Mi'Jae Wilson auditioned for a spot with an original song "What They Gone Do."
Wilson, who goes by the rap name Vision, said she's loved performing since she was 10. She said when she heard about the competition she immediately signed up.
"My main goal for performing is to inspire others and make them feel good," she said. "I'm going to present the crowd with positive energy and get them hype."
Nursing major Daiana Johnson said although she auditioned with a rap song, she hasn't decided on which genre of music to perform for the show. The singer and hip-hop artist practiced Beyoncé lyrics and moves on stage before the auditions started.
A duo of Gateway to College students, Lizeth Hinojoro and Maile Paladino, also performed their duet rendition of Jazmine Sullivan's "Bust Your Windows."
Pumarica said besides the fun of the performance, the event will have information concerning the horrors of child trafficking and its victims in an effort to raise awareness for the issue.
"The line-up is great, everyone has tons of talent and to tell the truth, I think this is a great thing for CCC students," she said.
Miller said he agrees because the event is the first of its kind at the college and the ASU has been working hard to plan the event. It has been a challenging and fun experience, he said.
Information on the competition can be obtained by emailing [email protected] or [email protected].