Financial aid day rebrands, spotlights resources
Support fair hits Campus Center Plaza to inform
Helping students get as much money as possible was the purpose of Comet Cash Day Oct. 3 from 11 a.m. to 2 p.m. in the Campus Center Plaza.
Previously known as Financial Aid Awareness Day, the event's name was changed this semester to reflect a new purpose.
"The goal this year is to help students get as much cash as possible not just from financial aid but from other places as well," Financial Aid Specialist Patricia Herrera said.
This was achieved by co-hosting the fair with EOPS and Outreach.
One technique to encourage students to learn about programs and resources represented on campus was a "passport" card.
Herrera explained that in order to be eligible for free food and raffle tickets, a sticker needed to be given by each of the 15 booths represented.
Raffle prizes were a $50 gas card, $50 grocery card, two parking permits and a laptop computer. Other ways to get tickets were by playing games such as ring toss and stepping inside a wind tunnel money machine.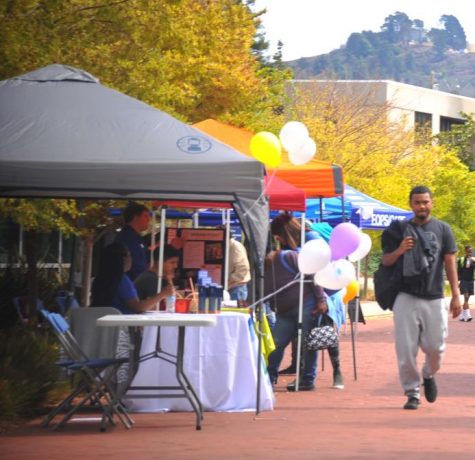 A participant survey also needed to be completed, which will be used to plan future events and programs that best cater to student's needs.
Priscilla Pina, representing the Extended Opportunity Programs and Services (EOPS) Office, said a key initiative was helping students sign up for FAFSA.
During the fair, Fireside Hall was used as a financial aid lab with computers set up so students could apply for FAFSA and/or DREAM Act consideration for the 2019-20 academic year.
Communications major Reetman Sandhu discovered the fair while walking by it on campus and was initially drawn in by seeing the Financial Aid Department.
"I've heard of EOPS, but this is the first time I really got to know who they are and what they do," she said.
A variety of organizations that offer assistance made their presence known during the event. SparkPoint is a non-profit program that works on campus to help students achieve financial stability, in part, through workshops on budgeting.
The program is free and will not turn away students based on income.
Contra Costa College SparkPoint Coordinator Bill Bankhead said the reason for SparkPoint having a booth at the Comet Cash Day event was to encourage students not to drop out due to financial instability and to highlight programs that help to prevent that.
Food security and availability is another issue that was addressed by CalFresh.
A federal program, CalFresh is dedicated to providing nutritious food to students in order to aid in academic performance.
Applications for assistance can be submitted twice a month and if approval is given, a budget of $192 a month is allotted for groceries. CalFresh Outreach Coordinator Robert Gama used the fair as an opportunity to tell students about the Contra Costa and Solano Food Bank as well.
Food for the event was provided by the Curbside Kitchen food truck.
An Air Force Reserve representative talked to students about benefits of enlisting in the service that include vocational training, tuition payment, and employment. The reason for recruiting at Comet Cash Day was due to the force's low exposure in comparison to other military reserve branches, reserve recruiter Lawrence Malm said.