Having a weekly news anchor program included in their journalism course sets Richmond High School apart from other high schools in the area. 
Students write and report on the ongoing events happening on campus and the community, while also being in charge of their weekly broadcast program. 
Lorenzo Morotti, a former The Advocate editor, is the adviser and teacher of the course at Richmond High, while the students are the ones who direct what the class reports. With this program, Morotti said he hopes to have more students develop an interest in journalism.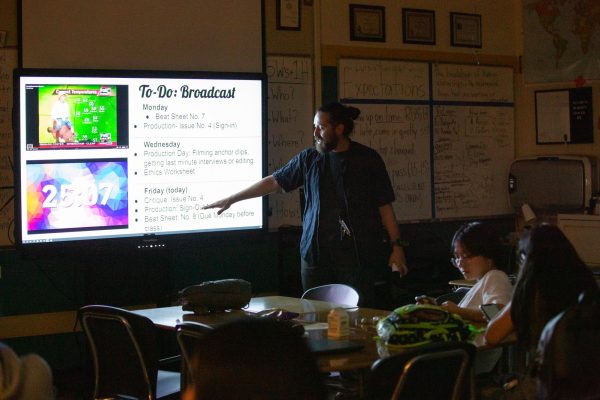 "Hopefully other people get into journalism because we're trying to document history in a way we're trying to capture life," Morotti said in an interview.
"I got into journalism at CCC [Contra Costa College], The Advocate program. I kind of joined for reasons that a lot of young people would join a class for, and that's because all of my friends were in that class," Morotti said, noting that he joined the program first as an editorial cartoonist. 
"I didn't think I would get into news reporting, writing, and photography at all. I did the cartooning thing for a couple of months, and then they asked me if I wanted to write a story," Morotti said. "So I wrote a story about a bike pump being installed, or a bike repair station being installed at CCC. And they liked it, which was weird because I wasn't expecting them to. They started giving me more stories. I eventually started writing a story a week." 
Although not all the students are planning on majoring in journalism, some spoke of the benefits of taking the course.
 "The ability to, I guess, go out do stories that you think are interesting as well as also meeting new people," said Milo Perez, an RHS alumn and lead editor of their weekly news. 
"We tell stories to keep the community engaged, inform things like that, keep the community tight," said Editor-in-Chief Graciela Hermosillo.
"Talking to new people that I've never met before and getting their perspective on, what is going on or overall just the topic that you're trying to cover," said Monica Lopez, a student reporter, about why journalism interests her.
"I'm very grateful for this, for [Morotti] giving me a chance to be the lead editor. I mean, I came in with very little experience and basically no knowledge of Premier Pro, and at the end of it, I got an internship at a prestigious and very famous ad agency known as Goodby Silverstein and Co," Perez said. "That helped me on my journey."
The students also talked about the importance of spreading news around school. 
"It's important to spread the news so that people will stay informed about events in general, not every story is newsworthy, but it still is good to know what is happening around in your community, your general vicinity, what's happening with the world, or even your favorite sports teams," said Perez.
Lopez's response was rather different: "It's important because it's good to get both sides of a story if it's on like a certain position and if it's really like it. It's impeccable or it impacts people and it's like, you could see diversity and it really gets people interested in them on the topics."
"Other news, they share mostly negative stuff to inform or strike fear into the community, or just to inform them of events that have been like shooting stuff – like that," said Hermosillo.  Well, in our  news broadcast, we kind of try and bring the community together." 
Student reporter Angel Escatel said: "I feel like the RHS weekly broadcast makes our own community in the school. You know, in CNN, they basically do their own community thing inside their area. I feel like it's the same thing for like Richmond High, you know, it's our own work demographic that we're gonna be broadcasting to."  
Morotti had some words for those who are thinking about pursuing journalism. 
"I would tell them, not many people are doing good journalism and there's a place for journalism in a democracy. If we don't have good journalists, I feel like we're headed towards something where we won't be able to come back as a country," Morotti said. "You know, we have a lot of discourse between two different sides. A lot of people are very much polarised, right? We tend to let our reactions get the better of us. But I guess my advice to any journalist is to just, you know, take a deep breath, and try and look at yourself first, look at your own biases, and then try to report the best you can."   
To tune into the Richmond High School weekly news broadcast, visit its YouTube channel.
Want to stay in the loop on news in and around West Contra Costa County and Contra Costa College? Add your email address to receive The Advocate's monthly newsletter.