Deteriorating foundations
Police Services building in dire need of seismic retrofit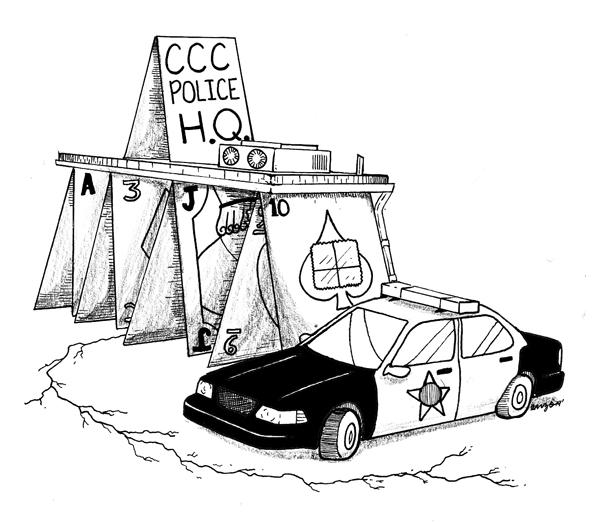 Police officers work to protect and serve the community and at a college campus that mission is no different.
But without an adequately sized or seismically stable base of operations, that mission becomes increasingly difficult.
At Contra Costa College, Police Services works out of a portable that it has shared with Buildings and Grounds for about a decade.
While talks of building Police Services its own structure on campus have just begun between administrators at CCC and the district, the project is only in the planning and design phase. The start and completion dates of the project are unknown.
What is known is the current building was erected in 1967 and does not adhere to the Alquist–Priolo Zoning Act of 1972, despite being in proximity of a major active fault line — the Hayward Fault.
The zoning act states that any public institution building located on or within 2,000 feet from a fault must be seismically retrofitted or condemned.
According to a 2012 Kleinfelder, Inc. seismic map, the Hayward Fault dissects CCC starting at the Bus Transfer Center through Lot 1 and Lot 5 before crossing Castro Road into the Parking Annex.
Thornton Tomasetti, Inc. created a Seismic Risk Mitigation Implementation Plan Report for CCC in 2012, which assessed structural inefficiencies of buildings on campus. The report scaled the Maintenance and Receiving Building, where Police Services currently resides, at seismic risk level IV out of VII.
This puts the building in the "questionable" category and recommends that it be demolished.
In the event of a major earthquake, Police Services may lose its current headquarters altogether. Also considering student police aides work within the facility, it is absolutely necessary that Police Services receive a state-of-the-art building up to modern seismic codes.
The Advocate supports administration and the district undertaking this vital project. But before we applaud them, we must ask why was such a project not dealt with earlier?
A Police Services building would have fared well in a centralized location on campus when considering issues of access and response time.
After touring the Police Services building with Lt. Jose Oliveira last month, The Advocate believes a new facility is not only necessary for student and officer safety, but to properly accommodate Police Services' entire operation.
For now, the facility is cramped, built on shaky ground, reliant on overflow storage and sub-par for efficient police business.
Considering the enormous threat the Hayward Fault poses, the district needs to expedite the process of providing a safe and spacious work environment for its officers before the next big one hits.