Iconic pairing of chocolate and champagne inspire dishes
Culinary arts department fundraiser for study abroad trip with chocolate, Champagne
The pairing of Champagne and chocolate-inspired food was on display at a scholarship fundraising event hosted by the culinary arts department in the Aqua Terra Grill on Saturday.
The 8th Annual Chocolate and Champagne event provided those in attendance to enjoy chocolate-inspired bite-sized foods, Champagne and live music.
All proceeds for the afternoon were dedicated to fund the culinary arts department's study abroad scholarships, which are used to send students to Italy each summer.
Seventy students participated in the event with a wide variety of flavors prominently displayed. Savory chocolate-infused dishes, such as chili con carne and butternut squash stuffed ravioli, contrasted the typical sweet concept of chocolate and allowed students to showcase their own creativity.
Patrons were led through the kitchen in the Aqua Terra Grill with one half dedicated to the savory while the other half was dedicated to chocolate desserts.
Culinary arts department Chairperson Nader Sharkes said, "Students participated on a voluntary basis and were required to put together dishes that incorporated chocolate in some way. They put into practice the concepts they learn here in the kitchen."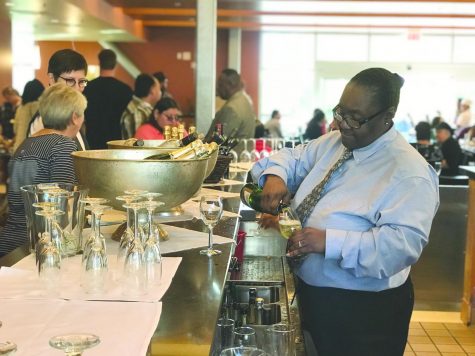 Culinary students said they were excited to participate in the event producing the concepts taught to them in class.
"This event is good practice for us to work together as a unit," culinary student Keran Rekhi said. "It also helps with customer service practices such as refilling (drinks) and interacting with customers."
Sharkes said although the event counted for hours toward the lab time needed for culinary coursework, the practices taking place by the participants in the kitchen were an invaluable hands-on experience for students.
Culinary arts student Andre Tuason said, "Chef Nader (Sharkes) pushes us to take our work ethic to another level and this event helps push us even more.
"I know from my own experience before coming to this program that I didn't have the necessary work ethic needed to work in a kitchen. But through Chef Nader and his direction toward wanting to make us better, a lot of us have seen improvement."
Sharkes said although a bottom-line fundraising goal was set for the event, the educational goals and development of students in the department at the event is always the focal point. "Everything is centered around the betterment of the students," he said.
"We invite many chefs and wine connoisseurs from around the Bay Area as our guests and it allows our students to show their talents to a diverse audience."
Former Contra Costa College culinary arts students were on hand to lend support to those who are presently going through what they once did.
Culinary alumnus Troy Yonke said, "This is consistently a great event for the (culinary) department and it shows the student body and visitors what creative things go on in this very expensive kitchen.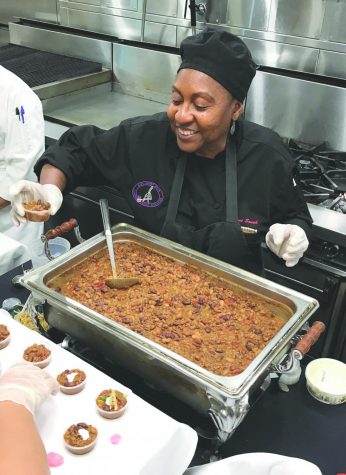 "The food and drinks are always good and you can't beat the environment with this building and the live music — just an all-around good time."
Other former culinary arts students were impressed with the department's new facilities and equipment and were enthused to see that the event has evolved to what it is today.
Program alum Dalaneo Revels said, "I actually worked the first (Chocolate and Champagne Event) and I feel like it's much more organized now.
"Plus, you've got the music with the (CCC) music department involved, utilizing and highlighting more programs in the college. It provides access to more students, which is a beautiful thing for the community."
And at this event, the partnership between the Music and Culinary arts departments has allowed for students from both areas to jointly sharpen their skills.
The music department provided live music for the event with performances by its award-winning group "JAZZ-ology".
Sharkes said, "The music department has helped us greatly with their live music and we will be returning the favor to them providing food for some of their events later on in the school year.
"We also received approximately $3,500 for our scholarship fund, a portion of which will go to the music department for its assistance with the event."
Culinary arts instructional assistant Angel Chau said although the event's foot traffic was not as crowded as in previous years, the festivities were more manageable with less chaos involved.
"We like it better when there is a steady flow of people so we can make everything go smoothly," Chau said. "Last year we ran out of space, but this year we were able to be on top of everything."